FAREWELL PARTY DODDY ACHADIYAT
KIPRAH profesional Doddy Achadiyat, salah satu pegiat pariwisata di Balikpapan, akan berkurang drastis di kota ini — untuk tidak dibilang berhenti.
Selama 10 tahun sejak pertama ikut membesarkan Hotel Sagita Balikpapan, Doddy pada akhirnya memutuskan untuk menetap di Jogjakarta bersama keluarga. Doddy adalah ikon bagi Sagita Hotel dengan kepemimpinannya sebagai General Manager dalam waktu yang cukup lama.
Sumbangsih Doddy diakui bagi Sagita maupun bagi perkembangan pariwisata Balikpapan. Pria berkacamata ini dipercaya menakhodai Perhimpunan Hotel dan Restoran Indonesia (PHRI) Balikpapan dan juga aktif sebagai salah satu penggerak di Association of the Indonesia Tours and Travel Agencies (ASITA) Balikpapan.
Kepindahan Doddy, meski dengan persiapan dan kaderisasi yang relatif matang, cukup membekas bagi lingkungan Sagita. "Karena kekeluargaan kami sudah begitu erat," ungkap Doddy.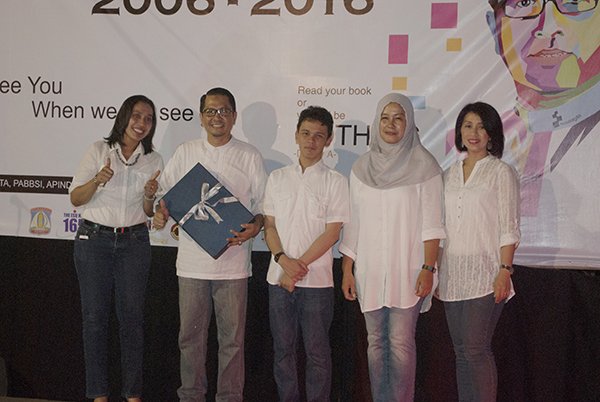 Manajemen Hotel Sagita menggelar seremoni sederhana bertajuk "Farewell Party Mr. Dodhy Achadiyat" pada Jumat (11/3) malam di poolside hotel bintang tiga di kawasan Gunung Malang itu.
Acara dihadiri kolega Doddy yang umumnya adalah stakeholder pariwisata seperti Kepala Disporabudpar Oemy Facessly, para GM hotel di Balikpapan dan mitra lainnya, termasuk Discover Balikpapan yang sudah bermitra dengan Hotel Sagita selama tiga tahun belakangan.
"Saya tidak mau ini disebut perpisahan. Selama 10 tahun ini, saya banyak mendapat kebahagiaan dan pelajaran. Jadi, ini bukan perpisahan," seru Doddy.
Meski penuh tawa, nuansa haru tetap saja terasa. Kendati demikian, rangkaian acara dibuat fun dan penuh keakraban. "We Will See You When We See You..," seru para karyawan yang ikut perform dalam acara. Para undangan juga mengambil foto bersama dan memberikan sejumlah kenangan dan cindera mata.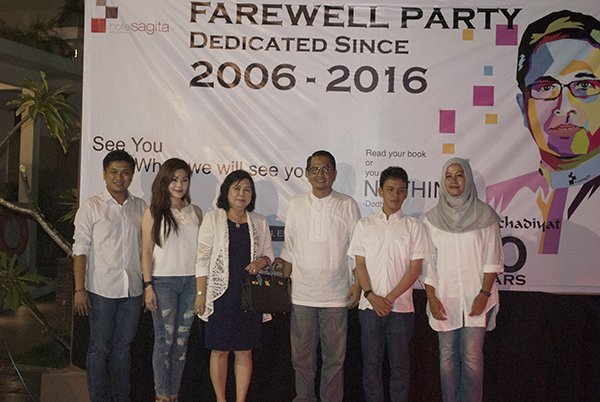 "Terima kasih untuk semua teman, saudara, sahabat yang telah menemani saya. Saya belajar banyak di sini. Saya masih akan bolak-balik Jogja-Balikpapan. Balikpapan sudah jadi rumah ke dua saya. Saya pasti datang lagi kemari," tandas Doddy. [hfd]
Source : Majalah DISCOVER BALIKPAPAN Edisi ke 52 April 2016