Pantai dan hutan barangkali dua tujuan wisata yang paling dikenal dari Balikpapan selain kuliner dengan bahan utama kepiting. Kenyataannya, kota ini juga memiliki potensi wisata lain yang menarik untuk ditelusuri. Heterogenitas masyarakat yang tinggal dalam suasana harmoni memperkaya budaya kota ini.
Maka jangan heran jika umat beragama mendapat kesempatan yang sama untuk menjalankan ritual agamanya. Tempat-tempat ibadah di Balikpapan menjadi lokasi menarik untuk dikunjungi. Merasakan atmosfer religius, melihat para umat beribadah, serta mengikuti berbagai ritual hari raya keagamaan.
Inilah 5 tujuan wisata religi yang patut Anda singgahi:
5 TOURISM RELIGIOUS IN BALIKPAPAN
Beaches and forests are perhaps the two best known tourist destination of Balikpapan in addition to the culinary main ingredient crab. In fact, the city also has another interesting tourist potential to be traced. Heterogeneity people who live in an atmosphere of harmony enrich the culture of the city.
So do not be surprised if religious people have an equal opportunity to perform religious rituals. Places of worship in Balikpapan become attractive locations to visit. Feeling the religious atmosphere, seeing the people worship, as well as attending various religious holiday rituals.
This is the religious tourism destination that you should flown
MASJID JAMI' AL ULA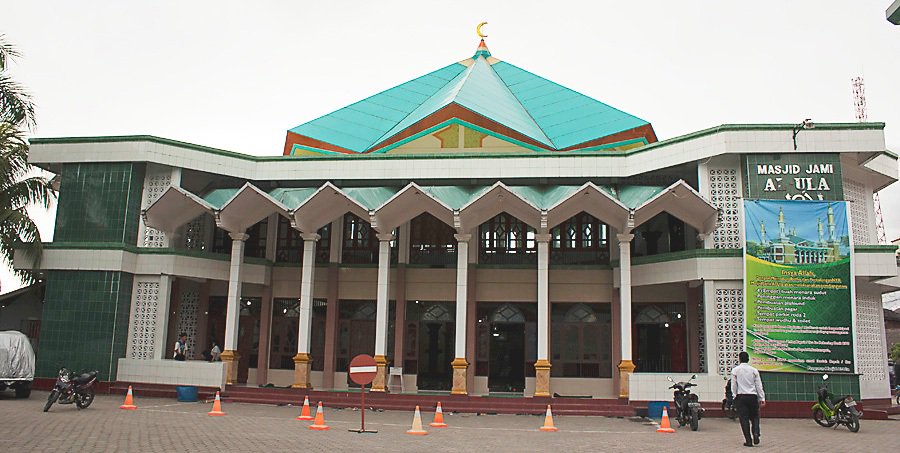 Masjid kuno Al Ula ada di perkampungan tua Kampung Baru. Tempat ibadah umat Islam ini adalah saksi sejarah perkembangan kampung bernama Bilipapan yang menjelma sebagai kota paling maju di Kalimantan. Masjid ini berlokasi di Jalan Letjen Suprapto RT 15 No 1 Kelurahan Baru Ulu Balikpapan Barat. Berada di kawasan pemukiman yang didiami mayoritas warga Bugis – Makassar.
Beberapa buku mengenai sejarah Balikpapan menyebut masjid ini sebagai tonggak sejarah penyebaran agama Islam di Balikpapan. Seperti namanya, "Al Ula" berarti pertama atau awal. Ia merupakan bangunan pertama tempat ibadah umat Islam di Balikpapan.
Masjid ini berdiri pada masa pemerintah kolonial Belanda. Tidak ada catatan pasti, namun banyak yang menyebut pada sejak 1890-an, masjid ini telah ada. Awalnya hanya sebuah surau atau mushola dengan dinding dan lantai papan kayu beratap sirap.
Pada abad 18, Kampung Baru adalah tempat singgah saudagar asal Sulawesi Selatan, Banjarmasin, Penajam dan Jenebora. Mereka berdagang berbagai keperluan masyarakat, di samping syiar agama Islam di bumi Borneo. Bahkan pada saat pembangunan kilang minyak pertama kali, Belanda menempatkan para pekerja dari China dan Pulau Jawa di kawasan ini.
Sebelum berdiri megah seperti saat ini, Masjid Jami' Al Ula mengalami beberapa kali renovasi, termasuk ketika Jepang menjatuhkan bom di daerah ini ketika perang melawan sekutu pada 1945. Tempat ibadah ini berulangkali selamat dari bencana kebakaran yang kerap kali mengepung Balikpapan Barat.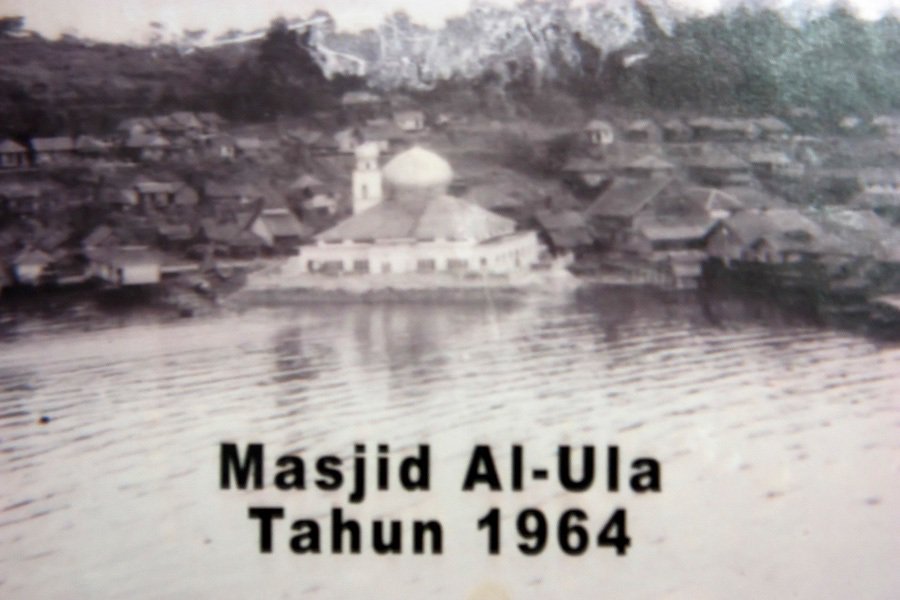 Ancient mosque in the village of Al Ula old Kampung Baru. Muslim place of worship is a witness to the history of this village called Bilipapan who incarnated as the most developed city in Borneo. The mosque is located at Jalan Lt. Suprapto RT 15 No. 1 Kampung Baru Ulu Balikpapan Barat. Located in the residential area inhabited by a majority of the Bugis – Makassar.
Some books on the history of the mosque calling Balikpapan as a milestone spread of Islam in Balikpapan. As the name suggests, "Al Ula" means "first" or "beginning". He was the first building of places of worship of Muslims in Balikpapan.
This mosque stands on the Dutch colonial government. There is no definite record, but many are calling on since the 1800s, this mosque has been there. Initially only a surau or mosque with walls and wood plank flooring shingle roofs.
In the 18th century, Kampung Baru is a haven of merchants from South Sulawesi, Banjarmasin, Penajam and Jenebora. They trade a variety of public purposes, in addition to the symbols of Islam in the earth of Borneo. Even at the time of the construction of the first oil refinery, Holland put the workers of Chinese and Javanese in this area.
Before the grand stand as it is today, Masjid Jami'Al Ula undergone several renovations, including when the Japanese dropped bombs on this area when the war against the allies in 1945. Place of worship is repeatedly survived the catastrophic fires that often surrounded the West Balikpapan.

MASJID AGUNG AT-TAQWA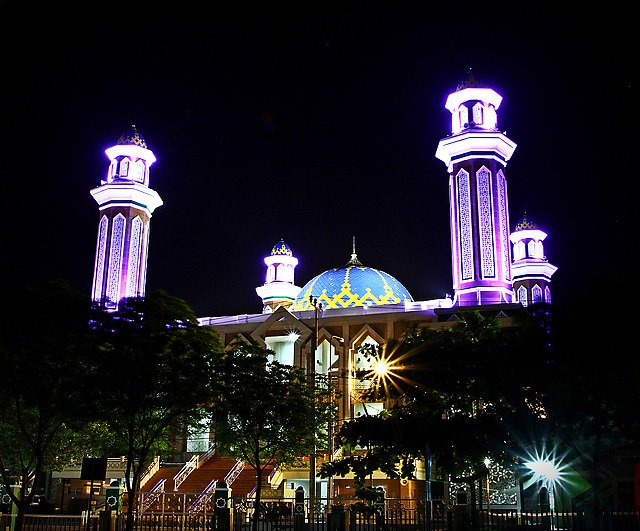 Masjid ini dibangun pada masa penjajahan Belanda (1946) oleh enam ulama. Mereka adalah Habib Ghasim Bahasim, Habib Ali Asseaf, H. Abdul Malik, H. Kai Kintang, H. Bahrun dan H. Abdul Ghani. Saat didirikan pertama kali, masjid ini berada di tepi pantai Klandasan Ulu. Ketika perang pecah antara Sekutu dan Jepang, masjid ini di bom Sekutu.
Selama 4 tahun masjid tak bisa digunakan karena mengalami kerusakan parah. Baru pada 1950, dibangun kembali di Klandasan, atau di lokasi berdiri saat ini. Para pendiri masjid ini telah meninggal dan dimakamkan di areal masjid.
Masjid Agung At Taqwa sudah 3 kali mengalami renovasi. Renovasi pertama dipimpin oleh Wali Kota Balikpapan H. Asnawi Arbain tahun 1970. Renovasi ke-2 dilakukan setelah 20 tahun silam dengan dipimpin H. Djali Karim. At-Taqwa berubah nama menjadi Masjid Raya At-Taqwa setelah renovasi kedua selesai. Namun, tahun 1998 Masjid Raya At-Taqwa berubah nama menjadi Masjid Agung At-Taqwa.
Masjid ini adalah salah satu masjid termegah di Kalimantan Timur. Kompleks masjid terdiri dari tiga lantai. Di Lantai 2 terdapat bangunan utama seluas 5.268 m2 dengan kapasitas tak kurang dari 4 ribu orang. Sedangkan bangunan penunjang seluas 4.426 m2.
Pada lantai dasar, bangunan utama seluas 2.004 m2, terdapat tempat penitipan barang dan tempat wudhu. Ada juga aula dan panggung yang kerap digunakan sebagai resepsi akad nikah. Lantai dasar dapat menampung 800 jama'ah.
Lantai 2 adalah lantai utama masjid. Ruang imam, perpustakan dan gudang peralatan tersedia. Dengan luas 1.632 m2, lantai utama dapat menampung seribu orang. Pada lantai 3 terdapat void dengan desain dan perpaduan warna yang sangat menarik. Selain itu terdapat perpustakaan dan ruang untuk pengajar TK-TPA At-Taqwa. Lantai ini dapat menampung tidak lebih 700 jama'ah. Selain menambah kapasitas jamaah, dibuat pula fasilitas penunjang lainnya. TK Al Qur'an, poliklinik dan mini market.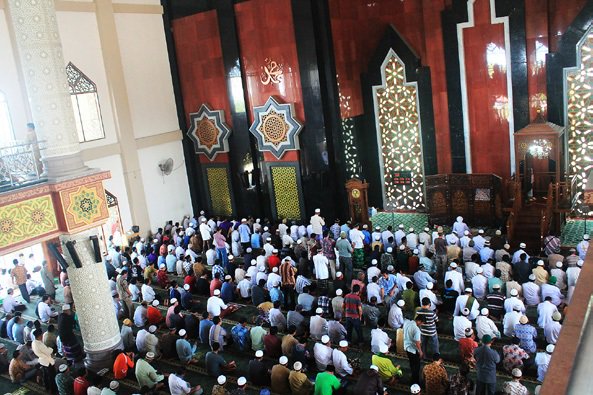 This mosque was built in the Dutch colonial period by six scholars. They are Ghasim Bahasim Habib, Habib Ali Asseaf, H. Abdul Malik, H. Kai Kintang, H. and H. Abdul Ghani Bahrun. When first established, the mosque is located on the waterfront Klandasan Ulu. When war broke out between the Allies and the Japanese, the Allies bombed this mosque.
During the 4 years of the mosque could not be used because of severe damage. New in 1950, rebuilt in Klandasan, or at the site stands today. The founders of this mosque had died and was buried in the mosque area.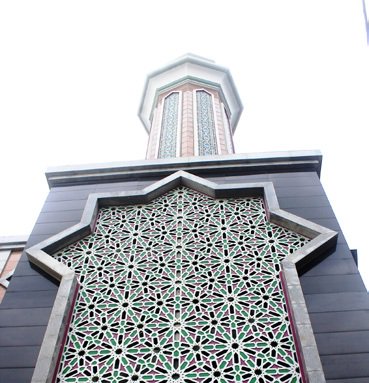 At Taqwa Mosque of 3 times already undergoing renovation. The first renovation was led by the mayor of Balikpapan H. Asnawi Arbain 1970. Renovations to-2 do after 20 years ago led Djali H. Karim. At-Taqwa changed its name to At-Taqwa Mosque after the second renovation is complete. However, the 1998 At-Taqwa Mosque changed its name to the Great Mosque At-Taqwa.
This mosque is one of the grandest mosques in East Kalimantan. Mosque complex consists of three floors. On the 2nd floor there is the main building area of 5,268 m2 with a capacity of no less than 4 thousand people. While supporting the building area of 4,426 m2.
On the ground floor, main building area of 2,004 m2, there is a day care goods and ablution. There is also a hall and a stage that is often used as a reception ceremony. The ground floor can accommodate 800 worshipers.
The 2nd floor is the main floor of the mosque. Priests space, library and warehouse equipment available. With an area of 1,632 m2, the main floor can accommodate a thousand people. On the 3rd floor there is a void with the design and color combination is very attractive. In addition there is a library and space for a kindergarten teacher-TPA At-Taqwa. This floor can accommodate no more than 700 pilgrims. In addition to adding capacity crowd, made also other supporting facilities. Qur'an kindergarten, clinic and mini market.
MASJID ISTIQOMAH

Masjid yang dibangun beberapa tahun setelah kemerdekaan ini terletak sangat strategis. Hanya beberapa meter dari Lapangan Merdeka yang menjadi salah satu pusat kegiatan masyarakat Balikpapan. Masjid ini juga dikelilingi lokasi wisata menarik seperti Pantai Kemala, Pantai Kilang Mandiri, dan Tugu Australia.
Meski demikian, tepat ibadah ini juga memiliki daya tarik tersendiri. Dibangun pada 1967, banyak fasilitas umum yang berada di tempat ibadah ini. Antara lain studio radio dakwah IDC FM, perpustakaan, guest house hingga pusat pendidikan agama Islam.
Awalnya, Istiqomah adalah surau kecil di Jalan Sekolah. Pada 11 Juni 1967, dimulai proses renovasi oleh Mayor HM Idris BA. Peresmian dan perubahan nama surau menjadi Masjid Istiqamah dilakukan pada 29 Oktober 1967. Pada 1984, masjid ini dipindah ke Jalan Sport No. 1 Gunung Dubs yang berdampingan dengan Lapangan Merdeka. Setahun kemudian, masjid ini diresmikan.
Seiring dengan proses renovasi, komplek masjid juga dapat dimanfaatkan masyarakat. Seperti akad nikah, diskusi, kajian Islam, hingga sekolah. Masjid Istiqomah menjadi pusat kegiatan umat Islam di Balikpapan seperti pelaksanaan Salat Idul Fitri maupun Idul Adha.
The mosque was built a few years after independence is located very strategically. Just a few meters from Lapangan Merdeka became one of the community center Balikpapan. The mosque is also surrounded by interesting tourist sites such as Kemala Beach, Pantai Kilang Mandiri, and Monument Australia.
However, this right of worship also has its own charm. Built in 1967, many public facilities are located in places of worship. Among other IDC FM radio studio, library, guest house to the center of Islamic education.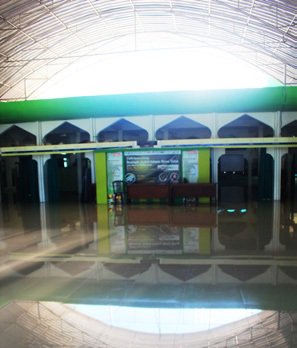 Initially, Istiqomah is a small mosque in Jl. Sekolah. On June 11, 1967, began the process of remodeling by Major HM Idris BA. Inauguration and change name Masjid Istiqamah be conducted on October 29, 1967., In 1984, the mosque was moved to the Jl. Sport No. 1 Gunung Dubs adjacent to Lapangan Merdeka. A year later, the mosque was inaugurated.
Along with the renovation process, the mosque complex can also be utilized community. Like the marriage ceremony, discussions, Islamic studies, and schools. Istiqomah mosque became the center of Balikpapan Muslims as Eid Salat implementation and Eid al-Adha.
VIHARA DHARMASTYA
Mahavihara Buddhamanggala dikenal sebagai candi modern terbesar di Indonesia. Di sini juga bisa dijumpai
patung Buddha tidur atau Dhammasala Mangalabharana yang konon juga merupakan patung Buddha terbesar di Indonesia.
Komplek vihara yang beralamat di Jl. MT Haryono 83 Balikpapan berdiri megah di atas tanah seluas lebih kurang 2,5 Hektar. Meskipun merupakan tempat beribadah, namun vihara ini juga dibuka untuk umum dari jam 6 pagi hingga 10 malam.
Sebuah gapura dengan 3 patung singa menyambut pengunjung. Tak jauh dari gapura terdapat bangunan penerima tamu. Di sini semua pengunjung harus melapor, dan mengisi buku yang disediakan. Sebuah pelataran luas dengan kolam bundar berbentuk lotus di bagian tengah menjadi pemandangan yang begitu menohok mata. Candi yang menjadi daya tarik kawasan ini bisa kita jumpai setelah menaiki beberapa anak tangga.
Pada bangunan sebelah kiri, terdapat patung Buddha tidur itu. Sebuah patung Buddha berwarna keemasan terdapat pada ujung bagian ruangan ini. Aroma hio memenuhi hampir seluruh ruangan luas ini.
Keluar dari bangunan pertama, kita bisa langsung menuju candi modern yang ada. Candi ini disebut candi modern karena dibangun pada 2003-2008.
Di bagian belakang candi terdapat kolam-kolam yang di dalamnya terdapat kura-kura. Pengunjung bisa memberi makan dengan makanan yang bisa kita beli di tempat ini. Dari bagian belakang candi, terdapat sebuah gedung dengan lonceng emas, mirip bangunan di Thailand.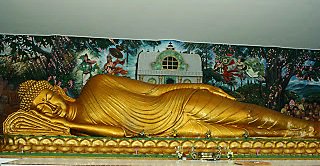 Tak salah jika tempat ini bernama Mahavihara, yang memiliki arti : vihara yang agung. Penasaran dengan keindahan candi modern atau patung Buddha tidur?
Buddhamanggala Mahavihara is known as a modern temple in Indonesia. Here also can be found sleeping Buddha statue or Dhammasala Mangalabharana which supposedly is also the largest Buddha statue in Indonesia.
Monastery complex is located at Jl. MT Haryono 83 Balikpapan stands majestically on a land area of approximately 2.5 hectares. Although it is a place of worship, but this temple is also open to the public from 6 am to 10 pm.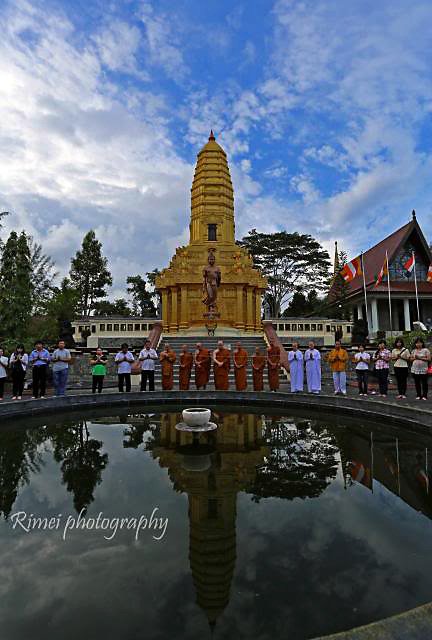 A gate with 3 lions greet visitors. Not far from the gate there is a reception building. Here, all visitors must report, and fill the books provided. A spacious courtyard with a circular-shaped lotus pond in the middle of a sight that is so striking eyes. The temple is the main attraction of this region can be encountered after climbing some stairs.
On the left side of the building, there is the sleeping Buddha statue. A golden Buddha statue located on the edge of the room. The aroma of incense meet almost every room of this spacious.
Out of the first building, we can go straight to the existing modern temple. This temple is called as a modern temple built in 2003-2008.
In the back of the temple are the pools in which there is a turtle. Visitors can feed the food that we can buy at this place. From the back of the temple, there is a building with a golden bell, similar buildings in Thailand.
Nothing wrong with this place called Mahavihara, which has a meaning: the great monastery. Intrigued by the beauty of the modern temple or sleeping Buddha statue?
KLENTENG GUANG DE MIAO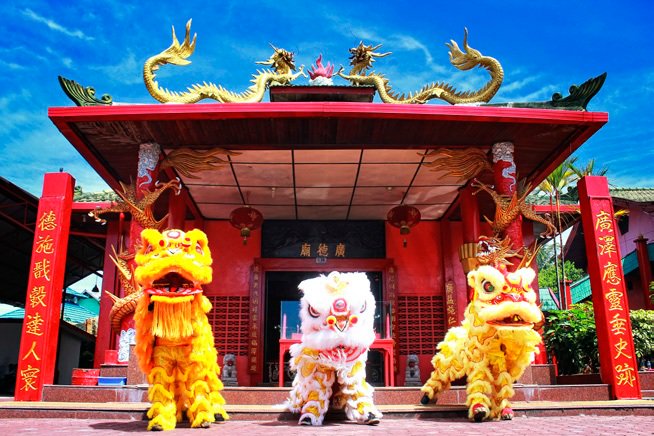 Tahun depan, klenteng yang berada di Jalan Bukit Niaga No 23 ini akan merayakan satu abad keberadaannya. Ini merupakan pusat peribadatan umat Kong Hu Cu paling tua di Kalimantan Timur.
Awalnya, klenteng ini bernama Guang De. Didirikan pada 1915, setelah imigran warga Tionghoa ke Balikpapan pada awal abad-19. Para imigran itu bekeja sebagai buruh kontrak di perusahaan minyak, Bataafsche Petroleum Maatschappij (BPM).
Nama Guang De Miao berasal dari daerah asal para imigran, yakni Guang Dong. Sedangkan De merupakan singkatan dari Dao De, yang memiliki arti: moral. Masyarakat sekitar mengenal klenteng ini dengan Ta Pe Kong yang berasal dari kata Da Bo Gong.
Dalam kepercayaan Tiongkok, Da Bo Gong adalah orang yang memiliki kelebihan sehingga mampu menyampaikan pesan lewat mimpi. Da Bo Gong atai Ta Pe Kong yang dipercaya orang-orang Tiongkok di Balikpapan adalah sosok Chen Bao Lin. Ia adalah imigran pertama dari Provinsi Guang Dong, Kota Tai Shan.
Pada 1941, klenteng ini hancur dibom oleh pesawat tempur Jepang. Ia dibangun kembali setelah masa Perang Dunia II usai. Pada 1953, perkumpulan Guang Zhao Hui secara resmi mengajukan permohonan kepada pemerintah untuk menguasai lahan tersebut sebagai tempat ibadah.
Waktu paling pas mengunjungi klenteng ini adalah pada saat perayaan hari-hari besar China. Jika Anda datang saat perayaan Imlek, suasana klenteng amat meriah. Selain upacara keagamaan, kita bisa menyaksikan kesenian barongsai.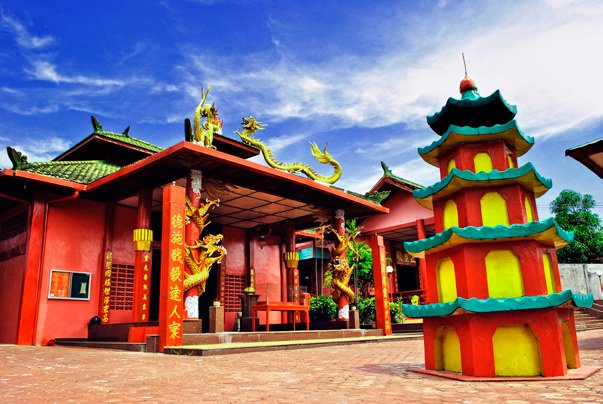 Next year, the temple is located at No. 23 Jalan Bukit Commerce will celebrate a century of its existence. It is the center of worship of Confucius oldest in East Kalimantan.
Initially, the temple was named Guang De. Established in 1915, after the Chinese citizens to Balikpapan immigrants in the early century – 19. Immigrants were working as contract laborers in the oil company, Bataafsche Petroleum Maatschappij (BPM).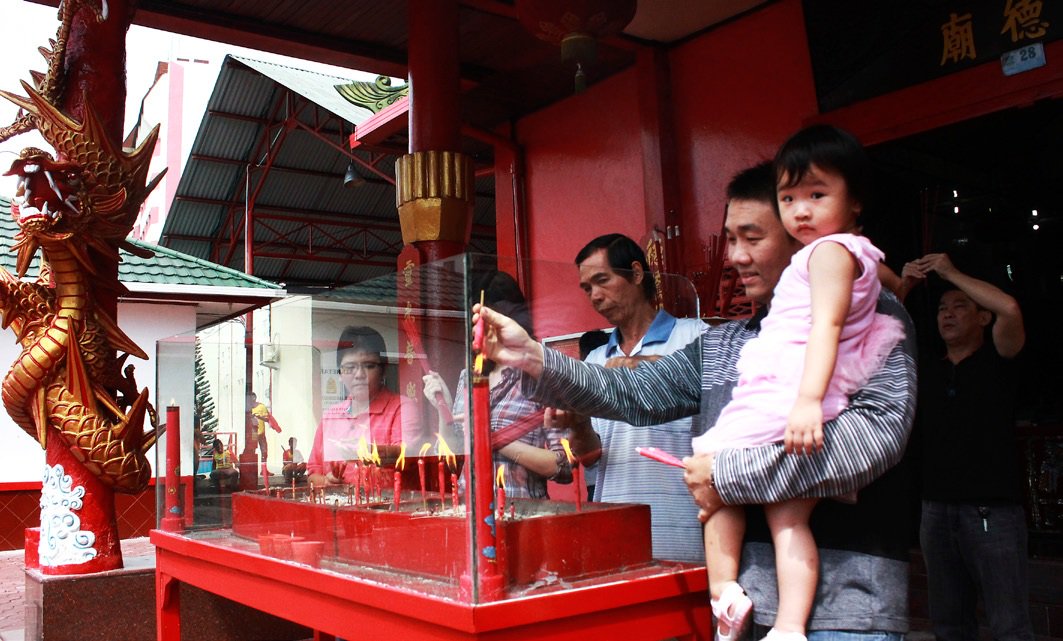 De Miao Guang name comes from the area of origin of the immigrants, the Guang Dong. Meanwhile, an abbreviation of the Dao De, De which means: moral. Communities around the pagoda familiar with Ta Pe Kong which comes from the Da Bo Gong.
In Chinese belief, Da Bo Gong is a person who has a surplus so as to convey messages through dreams. Ta Da Bo Gong atai believed Pe Kong Chinese people in Balikpapan is a figure of Chen Bao Lin. He was the first immigrant from Guang Dong Province, Tai Shan City.
In 1941, the pagoda was destroyed bombed by Japanese aircraft. He rebuilt after World War II ended. In 1953, Hui Zhao Guang association formally apply to the government for control of the land as a place of worship.
The most appropriate time to visit this temple is during the celebration of the great days of China. If you come during the celebration of Chinese New Year, the atmosphere is very festive pagoda. In addition to religious ceremonies, we can watch the lion dance art.
Source : Majalah DISCOVER BALIKPAPAN Edisi ke 31 Juli 2014