SALAH SATU KELEBIHAN JURUFOTO DALAM MEMAKNAI KEADAAN ADALAH CARA MEREKA MENANGKAP DAN MENYAJIKANNYA. TAK JARANG LENSA KAMERA MEMBERIKAN PERSPEKTIF BERBEDA KETIKA MENAMPILKAN SEBUAH OBJEK. TIGA FOTOGRAFER SPESIALIS PREWEDDING BALIKPAPAN MEREKOMENDASIKAN TUJUH LOKASI YANG BISA MENJADI PILIHAN PASANGAN UNTUK MENGABADIKAN MOMEN TERISTIMEWA.
Each photographers has their own way in taking the pictures. Unique perspectives can show the other meaning of a picture. The following prewedding photography specialists will tell us seven locations to picture the everlasting moments.
GUNUNG DUBBS
Gunung Dubbs bukanlah sebuah gunung seperti masyarakat Pulau Jawa ketahui selama ini. Ia adalah nama jalan di kawasan perbukitan. Sebuah landmark Balikpapan. Komplek hunian asri dengan arsitektur lawas tertata rapi, halaman yang luas dengan pepohonan rindang, serta view laut yang benar-benar memukau. Heaven on Balikpapan! maka sungguh beruntung mereka yang tinggal di kawasan ini, juga masyarakat Balikpapan yang setiap hari bebas melintas.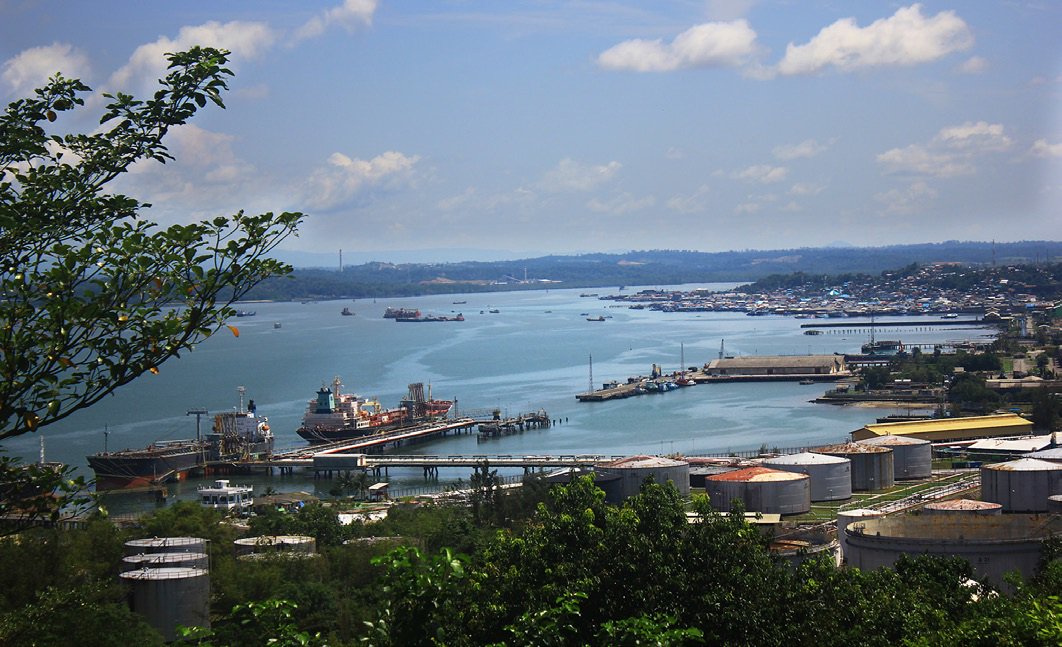 This place is a favourite spot to shoot. Its scenery is so heaven. We are lucky to have it in Balikpapan. Why? Because this is a place where its houses are very organized, shady trees, and its astonishing sea view.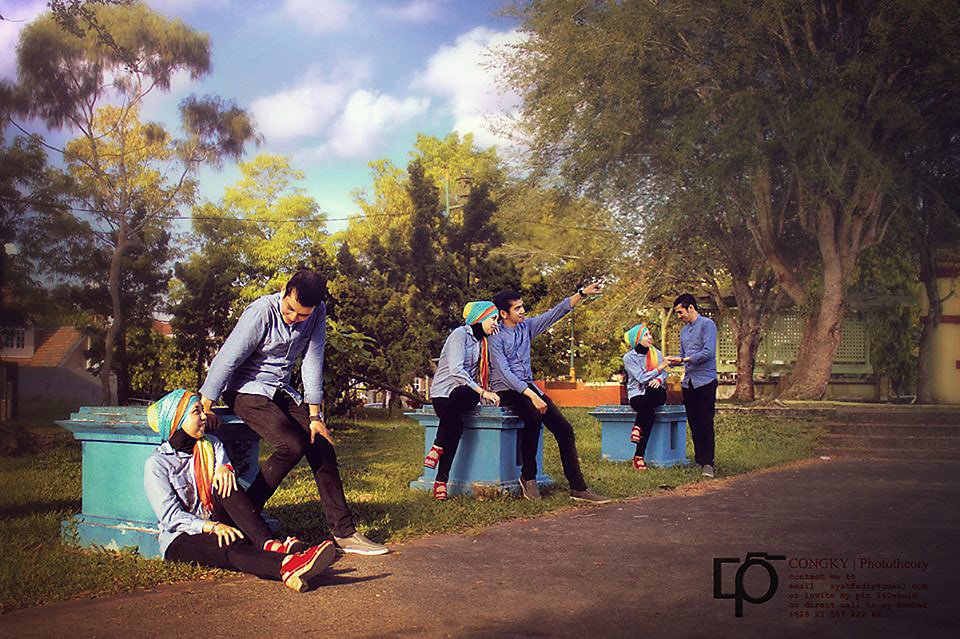 Sungguh tepat jika Arief Fanani, Budi Baroos (Home Studio) dan Congky Lexa (Pearce Indonesia) merekomendasikan perumahan karyawan Pertamina ini sebagai lokasi pemotretan pranikah. "Apapun konsep yang Anda pilih dalam pemotretan pre wedding, Gunung Dubbs selalu kontekstual,"kata Arief Fanani.
The three photographers, jika Arief Fanani (Pramesty), Budi Baroos (Home Studio) dan Congky Lexa (Pearce Indonesia) recommend this place as prewedding photography spot. Arief Fanani says, "whatever the concept, shooting at Gunung Dubbs has always been contextual".
Fotografer spesialis pranikah ini– diminta atau tidak, menempatkan Gunung Dubbs dalam daftar teratas lokasi pilihan pasangan yang ingin mendokumentasikan foto jelang hari sakral mereka.
He, always put Gunung Dubbs as his top option for his customers. It is important to show how important this moment is for customers.

Banyak bangunan dengan arsitektur vintage yang mendukung konsep foto. Anda bisa membuat foto berkesan jadul didukung latar rumah, gudang, kantor atau arsitektur kuno lainnya. Ada gua dan terowongan peninggalan Jepang, serta museum mitraliur mini.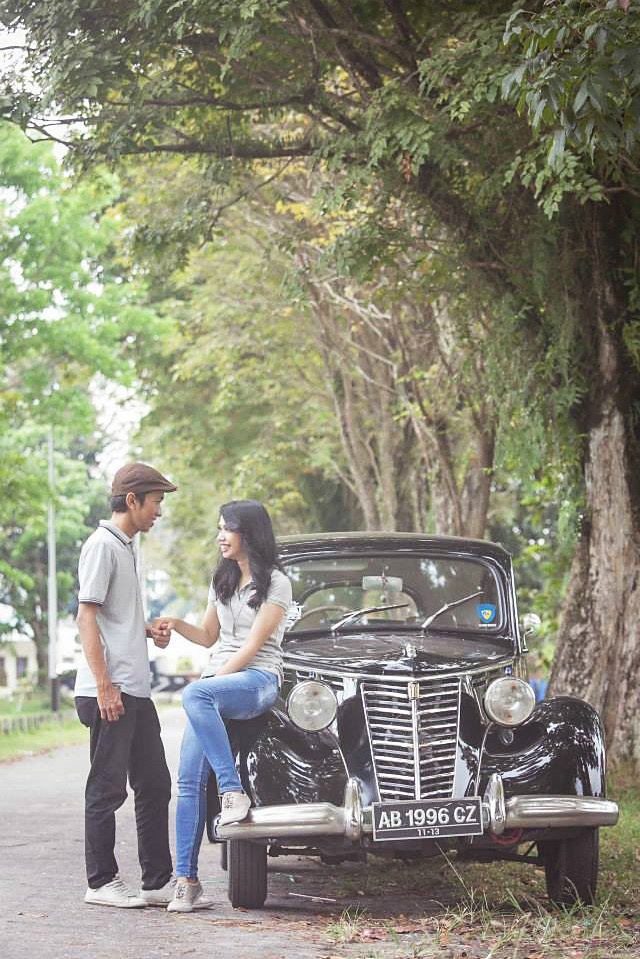 There are also several houses, warehouses offices in vintage. This is to ensure we can deliver vintage concepts.

Di sepanjang jalan utama, tepat di puncak Gunung Dubbs, berdiri bangunan tinggal yang dibuat semasa perusahaan pengebor minyak asal Belanda (BPM) masih beroperasi.
Along its main street, right on top of Gunung Dubbs, lies the housing complex built when the BPM-the early Netherland oil-drilling-company ran.

Untuk tema modern pun, kawasan ini tetap klop. Lanskap kota Balikpapan bisa menjadi sumber inspirasi dalam mengeksploitasi foto. Bahkan sarana penunjang, seperti tangga, taman, lapangan dan pepohonan bisa mempercantik frame foto Anda.
This is also a place for modern concept photoshoots. Balikpapan landscape provides you inspirations to explore your concept. Even the stairs,parks, courts and trees can flourish your photoshoots.
Di Jalan Madura, kita bisa memanfaatkan latar pusat kota yang berada di pesisir. Pada malam hari, gemerlap cahaya dari Plaza Balikpapan maupun pusat perbelanjaan dan bangunan sekitarnya tak kalah anggun.
Along Madura St, we can use downtown as a perfect shooting background. In the night, the lights from downtown to the building near shoreline provides us the perfect scenes.
Di Jalan Gunung Balikpapan, Anda bisa menempatkan komplek kilang sebagai background. Jika ingin menampilkan situs budaya, ada rumah panggung hingga monumen yang tersebar di sejumlah area. Termasuk terowongan buatan Jepang yang masih terlihat.
Along Gunung Balikpapan st, we can use the view of refinery plant as our shooting background. Should we wish to show the cultural site, we have the collection across the city. From stilt houses to monument. That includes the famous Japanese tunnel.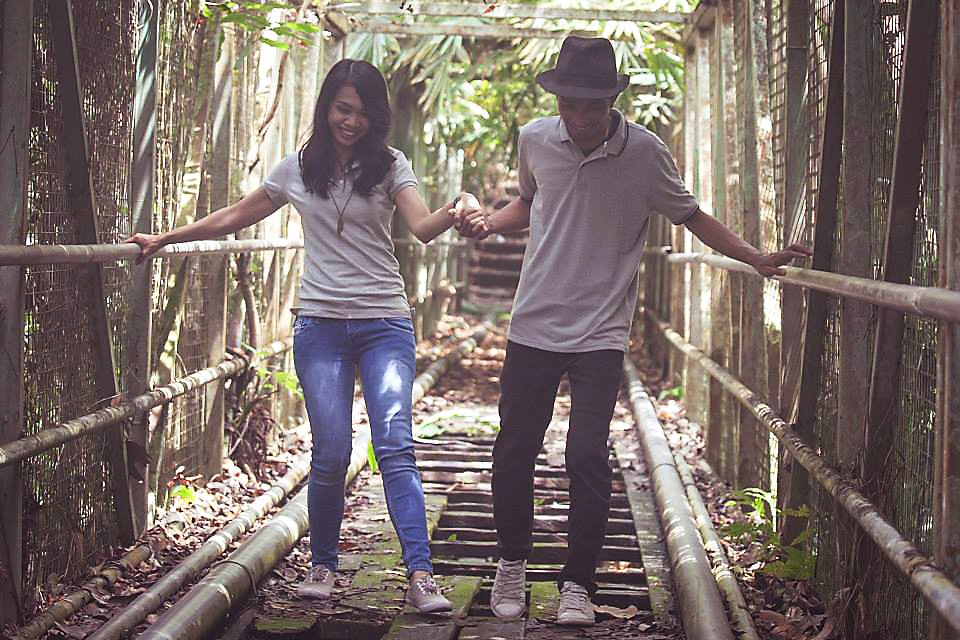 Tetapi jangan lupa selalu meminta ijin kepada penghuni rumah maupun petugas keamanan yang ada di kawasan ini untuk pengambilan gambar. Ada beberapa properti yang mungkin saja tidak bisa kita gunakan.
There is one important tip before shooting in this place. Always report to the local guards or the household habitants before shooting. There are some properties that they reluctantly give permission to shoot at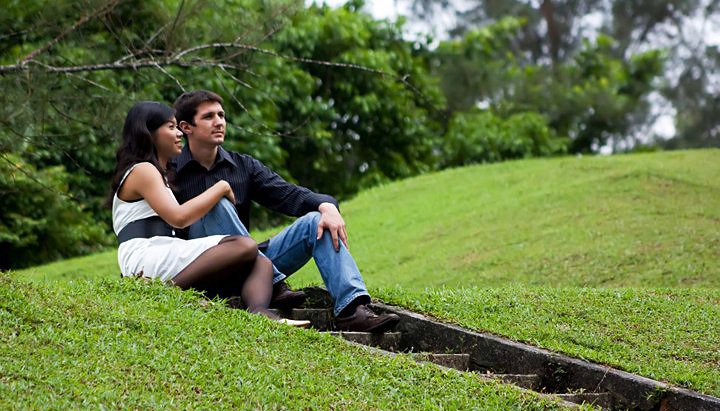 PANTAI KEMALA
Sebuah situs berita yang cukup popular menulis Balikpapan sebagai Indonesian Hawai. Kantor berita itu menyebut ada kemiripan kota ini dengan kawasan pantai paling dikenal sejagat itu. Kemiripan paling mencolok adalah "Pantainya segaris dengan pusat kota".
One popular news website named Balikpapan as the Indonesian Hawai. The news said that there is a similarity between Balikpapan and Hawai. Its popular similarity is "the shore is aligned with downtown".
Sudah sepantasnya jika ada pasagan yang ingin mengabadikan momen kasih sayang mereka dengan mengambil latar pantai. Kemala adalah pantai yang direkomendasikan Arief Fanani. Akses yang mudah, fasilitas lengkap serta pasir putih yang bersih adalah sederet alasan mengapa ia merekomendasikan "Balinya" Kalimantan ini.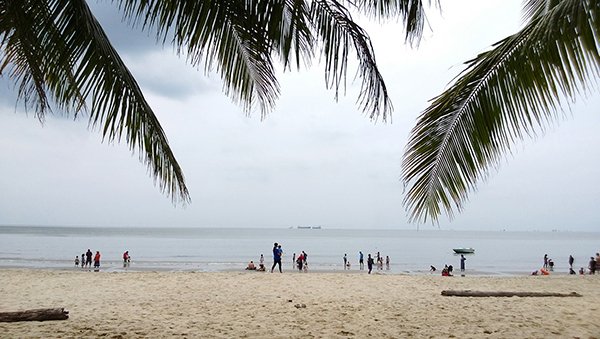 It is very common for couples to take photo shoots having the sea as the background. Kemala beach is one that Arief Fanani recommends. Easy, complete facilities and the clean white sand, makes Kemala Beach perfect for Arief.

Pantai ini telah mengalami sentuhan modernisasi. Ada banyak restoran, fasilitas olah raga air dan ombak yang bersahabat. Suasana senja dengan keriuhan pelabuhan dan gemerlap lampu kilang minyak adalah bonus yang tidak dimiliki pantai lain di Balikpapan.
The beach has been modernized by the existence of restaurants, water sport facilities and friendly waves. When sunsets, the port hustles and the refinery sparkles its colourful lamps are the bonuses we can't afford to have in the other beach.
Anda bebas mengatur gaya foto pranikah memanfaatkan fasilitas di pantai ini. Bukan sesuatu yang mustahil jika dalam pengambilan gambar, Anda mengajak pengunjung lain untuk ikut meremaikan suasana. Lantaran lokasinya berada di pusat kota, Anda bisa meminta fotografer mengambil gedung pencakar langit sebagai latar.
We can freely take our prewedding shoots in this beach. It is not rare to ask for other visitors to brisk the shoot. In addition, we can ask the photographer to take skyscraper building as our background.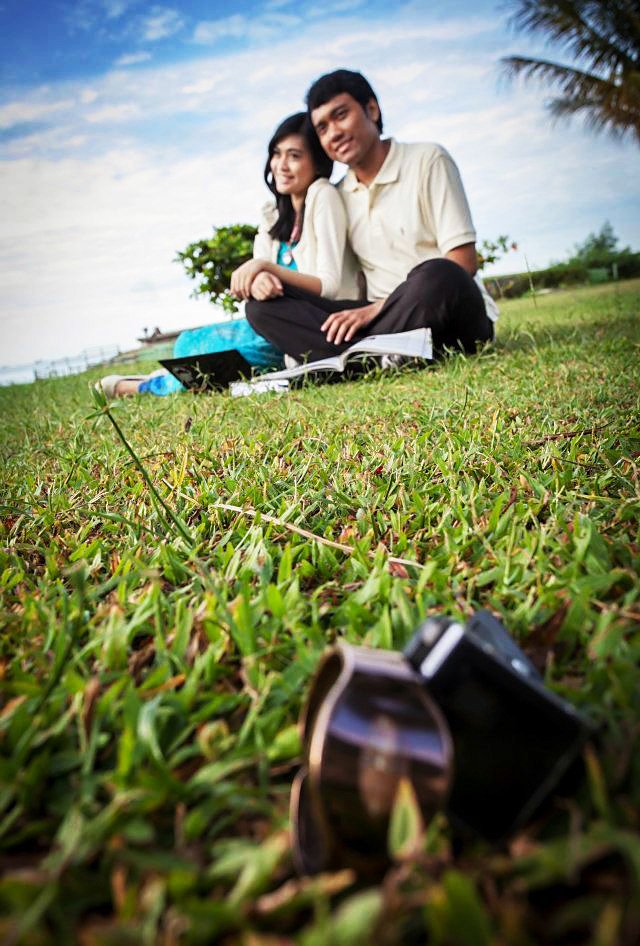 PANTAI TANAH MERAH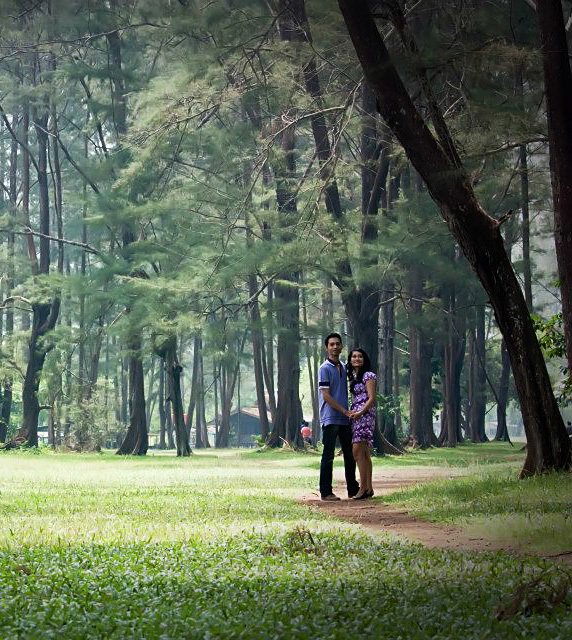 Jika ingin mendapatkan sedikit privasi, pantai di ujung timur Balikpapan dan berbatasan dengan Kabupaten Kutai Kartanegara ini bisa menjadi alternatif. Budi Baroos memilihnya untuk calon pengantin yang tak biasa menjadi pusat perhatian saat pemotretan.
Should we prefer a little private place, this beach in the far east of Balikpapan would be the alternative. Our photographer, Budi Baroos suggesting it for the couples who are uneasy being in the centre of attention while taking their photo shoots.
"Tanah Merah mungkin sedikit pantai yang masih alami. Selain pasir putih yang relatif bersih, di sini juga banyak pohon cemara," ungkap pemilik Home Studio ini. Pemotretan dengan gaya kasual maupun tradisional bisa dilangsungkan. Beberapa gazebo yang tersebar di kawasan hutan cemara mendukung gaya pengambilan foto.
This is maybe one of a few natural beaches. We can have clean white sand and a lot of pine trees, Budi said. He can help you taking either casual or traditional shoots. Several gazebos and pine trees is a major plus point in the photoshoots.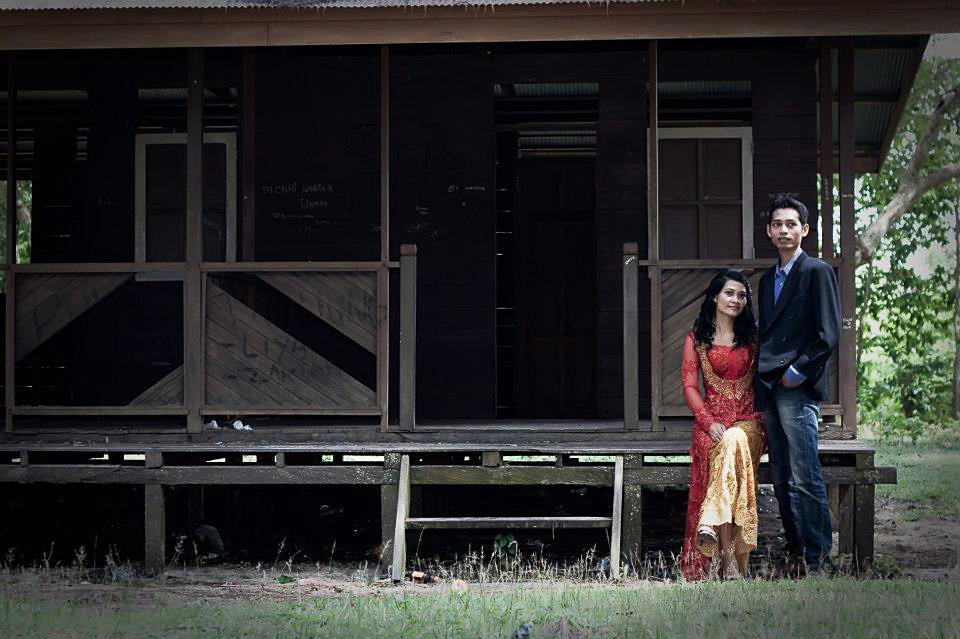 Butuh persiapan matang jika kita ingin melakukan pengambilan foto pranikah di kawasan ini. Jarak tempuh yang cukup jauh dari Balikpapan, memerlukan stamina dan ketelitian. "Saya selalu cek dan ricek kelengkapan alat sebelum mengajak klien hunting di kawasan ini. Kalau ada yang ketinggalan bisa kacau jadwal pemotretan," kata Budi Baroos.
Before going to tanah merah beach, we need to prepare ourselves very well. Its distant requires our stamina and thoroughness. "I always check and recheck our tools before taking our client go hunting in this place. You don't want to left anything behind to screw the shooting schedule," he said.
Sesungguhnya sulit untuk menentukan waktu terbaik pemotretan pra wedding. Namun untuk mendapatkan kesan dan karakter model, tengah hari adalah saat paling tepat. Ketika sinar matahari jatuh di sela-sela cemara, kamera dapat menangkap suasana hutan cemara yang magis.
It is not very easy to choose for the best time to shoot preweddings. But to obtain model-like impressions and character, it is the best to shoot at noon. The magical tree will show its beauty when the sunlight pierces through its leaves.
Pantai ini berada sekitar 40 kilometer dari Balikpapan. Hanya bisa dijangkau dengan kendaraan pribadi baik rodak 2 maupun 4. Hingga kini belum ada akses angkutan umum yang tersedia. Perjalanan yang melelahkan akan terbayar setibanya di pantai yang menyajikan pemandangan alami ini.
The beach is 40 kilometres away from Balikpapan. We can go there using private vehicle since there are no public transportation to take us there. The tiring travel will feel worth when we see the beauty of the beach.
BANDAR BALIKPAPAN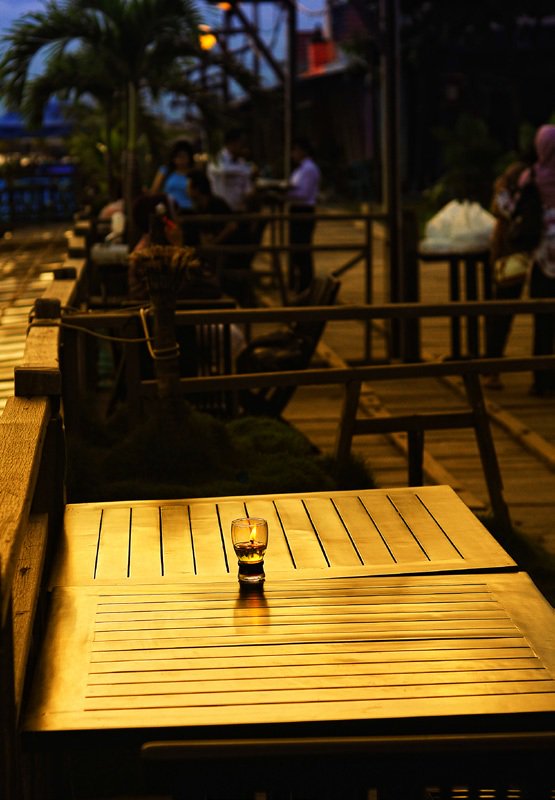 Belakang komplek pertokoan Bandar Balikpapan menyimpan potensi yang tak kalah memesona dibanding kawasan pesisir lain di kota ini. Jembatan kayu bekas dermaga dan lampu-lampu taman yang menghias sepanjang titian, menarik bagi Congky Lexa.
Behind the commercial complex of Bandar Balikpapan, and encharming shore has been attracting Congky Lexa, especially the wooden bridge and the lighting along the footbridge.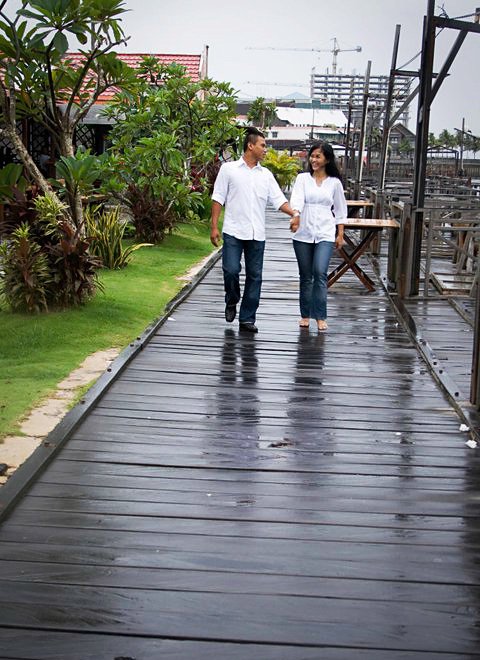 Kawasan ini memang telah lama menjadi salah satu pusat perhatian pelancong dari luar Balikpapan, terutama mereka para penggemar kuliner. Deretan resto penyaji seafood, kafe dan amusement. Sebut saja Ocean Resto yang khas dengan udang, atau Waroeng Ijoe yang menampilkan penghibur lokal setiap hari, dan Zeus, sebuah cafe bernuansa bar yang dinamis.
This place has been attracting visitors outside Balikpapan, especially those who like to dine. There are several seafood restaurants, cafes and amusements, such as Ocean Resto which is famous for its shrimps, Waroeng Ijoe which entertain us by putting local artist's shows, or Zeus whose bar is very dynamic.
Bagi Congki, Bandar Balikpapan tak cuma tempat menyenangkan mata dan perut. "Untuk pemotretan pranikah, kawasan ini adalah salah satu yang terbaik di Balikpapan," katanya. Daya tariknya adalah pantai, taman dan panorama teluk dengan aneka kesibukannya. Kita memang tak bisa menjejakkan kaki di pasir, namun fasilitas publik yang ada di sini bisa dimanfaatkan untuk mendukung pengambilan gambar.
To Congki, Bandar Balikpapan has not been always a place to dine and seaview. "For prewedding shoots, this is one of the best place in Balikpapan," he says. The main attractions are the beach, park and hustling bay. We are not allowed to step on its sand, but its public facilities are the photoshoot's object.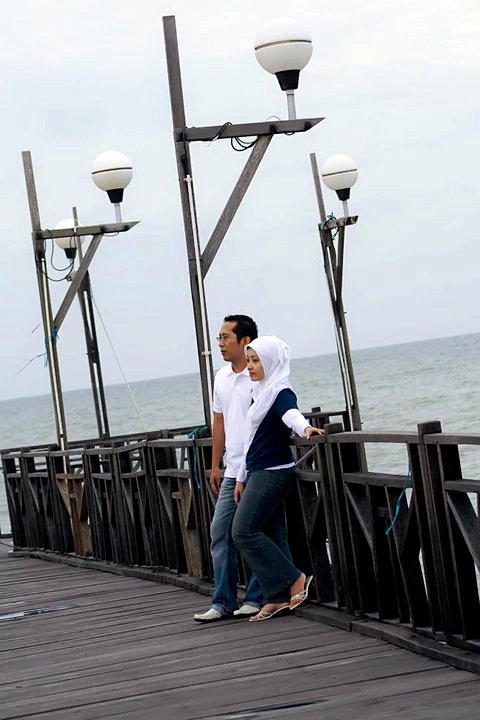 Malam dapat menghasilkan foto yang romantis. Makan malam dipinggir pantai diterangi lampu dermaga serta kerlipan cahaya dari kapal-kapal yang lempar sauh tak jauh dari Pelabuhan Semayang. Akan tetapi Anda bebas memilih kapan melakukan pengambilan gambar sesuai tema.
Taking romantic pictures in the night is the best for Congki. Having dinner by the beach, having the sprinkle of lights from the porting ships in Semayang. Anyway, we can choose the time to shoot.
MANGROVE MARGOMULYO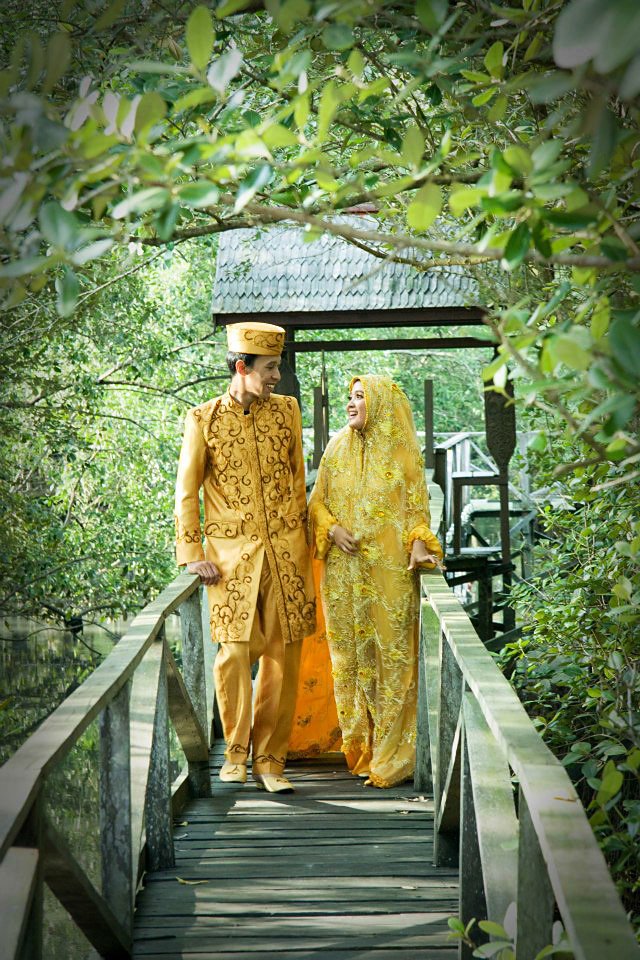 Ada dua kawasan mangrove yang menjadi tujuan wisata; Mangrove Center dan Margomulyo. Namun pusat konservasi mangrove Margomulyo dipilih para fotografer prewedding lantaran lebih dekat dan "lebih aman". Untuk menikmati hutan bakau, Anda tak perlu mengayuh sampan atau menyewa perahu motor seperti di Mangrove Center.
There are two mangrove areas to visit : Mangrove Center and Margomulyo. Nevertheless, Margomulyo mangrove has been preferred by photographer for preweddings since it felt safer to shoot there. To enjoy mangrove, you don't have to sail or rent motor boat as in Mangrove Center.
Pemandangan yang ditampilkan pun tak kalah menarik. Kelebihan lainnya, di sini ada gazebo, menara pandang, serta akses menyaksikan bekantan lebih mudah. Berbeda jika Anda menyukai tantangan dan petualangan, maka Mangrove Center lebih direkomendasikan.
Anyway, the scene is very attracting. We can also have gazebos, towers and seeing bekantans easier. Though, for those who prefer more challenges can choose Mangrove Center.
Konservasi mangrove di Margomulyo tidak saja disukai fotografer pranikah. Mereka yang menyukai fotografi alam kerap memanjakan lensa dengan berburu bekantan maupun fauna penghuni kawasan ini.
Margomulyo mangrove conservation has been attracting not only prewedding photographers, but also wildlife photographers. They who loves natural photography tend to hunt for bekantan and other animal pictures here.
Bagi jurufoto pranikah, jembatan kayu sepanjang lebih dari satu kilometer bisa menjadi catwalk bagi pasangan yang tengah berbahagia. Begitu juga dengan gazebo dan menara pandang yang bisa dieksplorasi.
For prewedding photographers, the 1-km-wooden-bridge can be transformed into a catwalk for happy couples. Not only the bridge, but also the gazebos and the tower as well.
Keunikan lainnya adalah akar bakau yang meraksasa, membentuk pola cukup unik. Lebih jauh, dengan menyusuri jembatan kita akan menemukan perkampungan Kampung Baru dan Kariangau. Perkampungan yang bertetangga itu hanya terhubung sebuah jembatan kayu. Dari sini, kita bisa menyaksikan kesibukan It is very unique to see the giant root curving unique form. Furthermore, we can go deeper inside conservation to watch the hustle bustle of the fisherman village.
BENDALI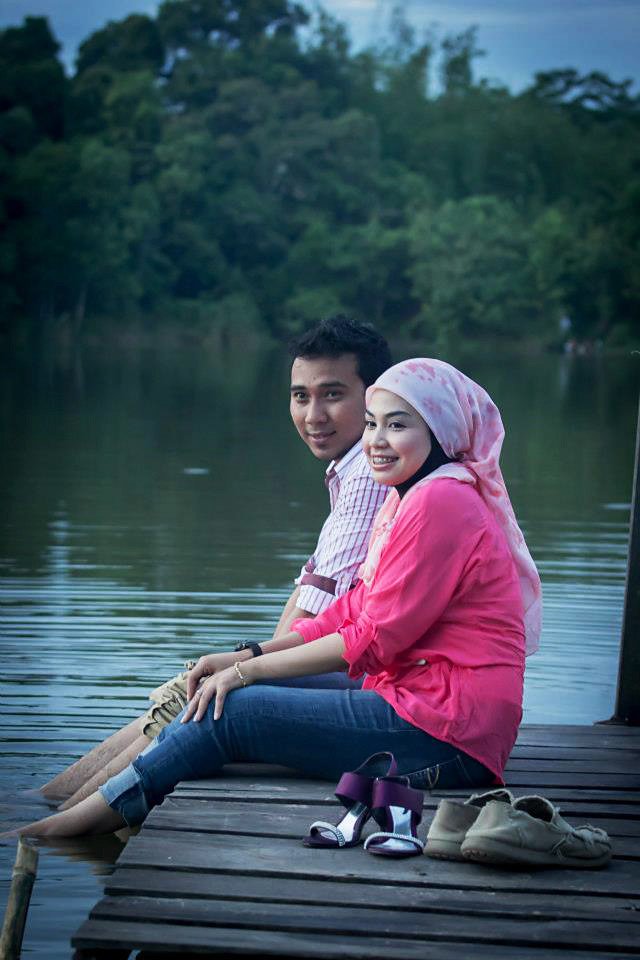 Selain lokasi wisata yang sudah eksis, bendungan pengendali banjir (bendali) ternyata juga menjadi lokasi yang disukai. Tiga spesialis prawedding merujuk kawasan di Kelurahan Sepinggan Balikpapan Selatan ini sebagai lokasi pemotretan yang bisa dicoba.
The water dam or BENDALI has always been a favorite shooting spot. The three prewedding specialist point this place as place we should try.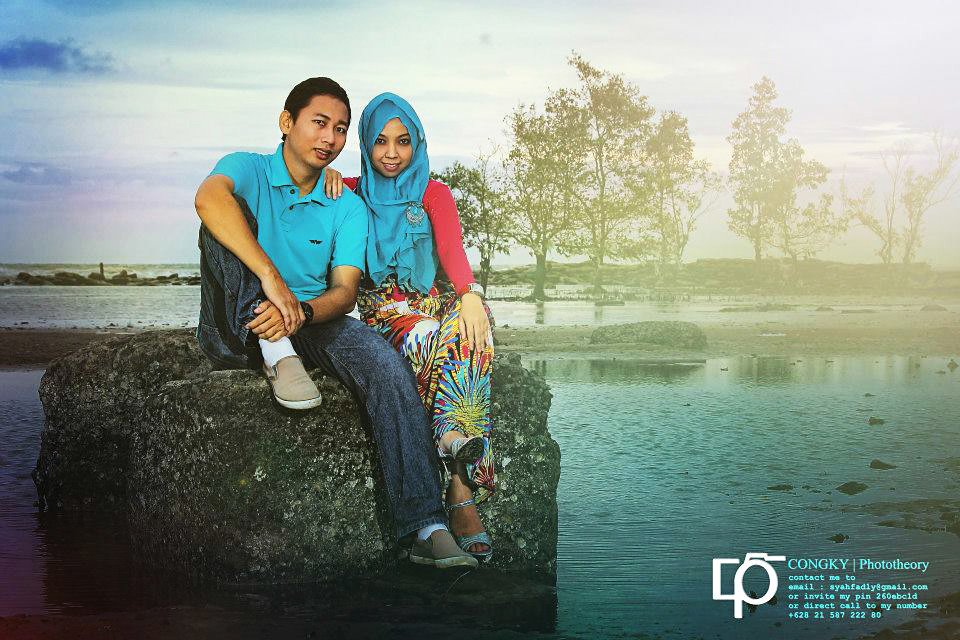 Background yang disajikan adalah kawasan hutan di perbukitan, air yang tenang dan taman di sekitar bendungan. Bagi pasangan yang ingin melakukan pengambilan gambar di atas air, bisa memanfaatkan sarana yang ada. Memang tak ada perahu atau kapal untuk berkeliling, dibutuhkan kejelian agar memperoleh angle yang menarik.
The dam provides us the beautiful view of forest in the hills, calm water and parks near the dam. For those who would like to shoot above the water, it needs a little effort to find the perfect angle.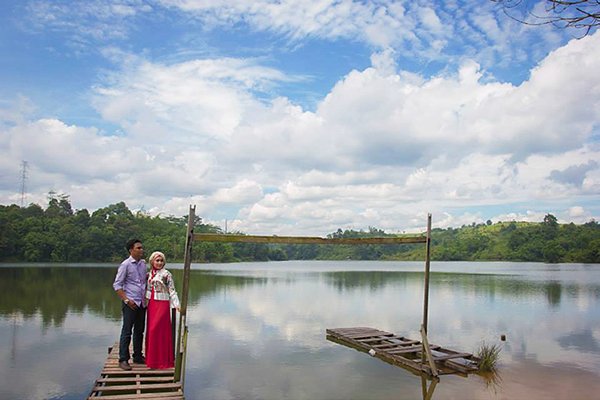 MONPERA
Lampu taman Monumen Perjuangan Rakyat (Monpera) barangkali bisa terlihat berbeda di tangan para fotografer. Kita bisa memanfaatkan taman di seputar monumen ini untuk mendapatkan pose terbaik. Bukan saja dikenal sebagai tugu peringatan perjuangan rakyat Balikpapan pada masa kemerdekaan, Monpera juga memiliki taman yang nyaman, pantai kecil yang cukup bersih dan cemara yang rindang.
The lightings of MONPERA can be an interesting object by the photographers. We can explore ourselves to get the best picture. Not only being a commemorator for the battle we took in early independence era, it also provide us with cozy park, clean small beach, and shady pines.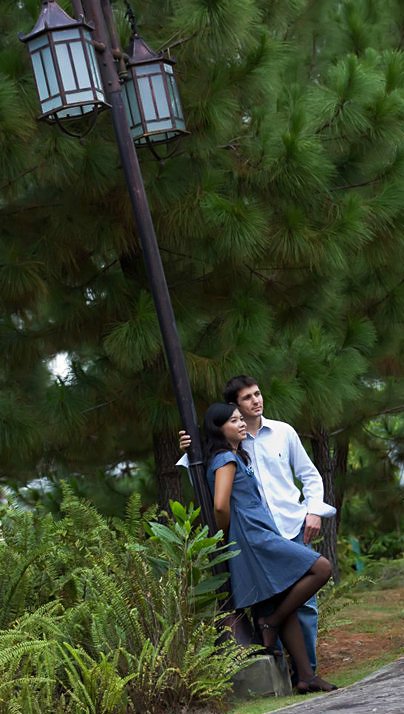 Tak jauh dari pusat kota membuatnya gampang diakses. Banyak pasangan yang membuat foto jelang pernikahan di tempat ini. Pemandangan yang menarik serta simbol-simbol perjuangan mungkin relevan dengan tujuan mereka.
It is very easy to get here. There are also a lot of couples shoots their prewedding here. They feel that the nice view and fighting symbols add memories to their pictures.
Source : Majalah DISCOVER BALIKPAPAN Edisi ke 34 September 2014