Tiada tempat lain yang lebih indah untuk menghabiskan 
hari bersama keluarga selain di taman kota. Pagi dan sore, senantiasa 
aman dan menyenangkan. Lokasi yang hangat untuk 
berinteraksi dan menikmati hiburan, menyantap kuliner, bahkan 
belajar. Eksplorasi taman-taman kota untuk berekreasi bersama 
keluarga: taman Bekapai, Lapangan Merdeka, taman Lalu 
Lintas taman Adipura dan banyak lagi.
There is no other more beautiful place to spend the day with family than in a city park. Safe and enjoyable all day long. Warm location to interact and enjoy the entertainment, culinary eating, even learning. Exploration of city parks for recreation with family: Bekapai park, Merdeka Square, Lalu Lintas park, Adipura park and much more.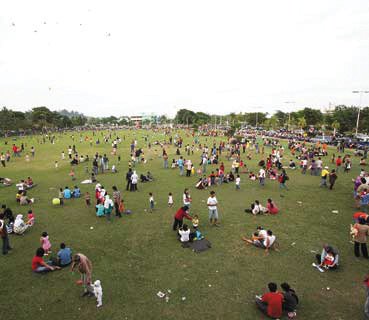 TAMAN BEKAPAI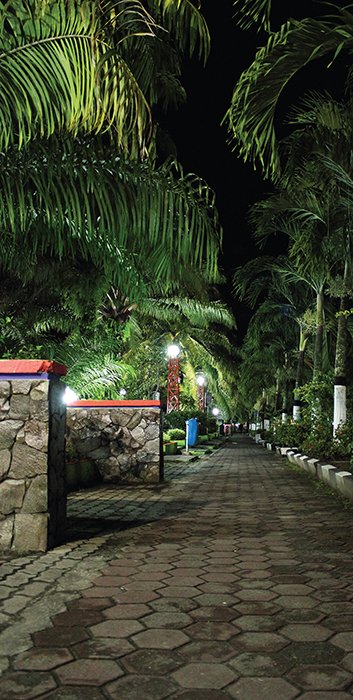 Banyak hal menarik yang bisa kita temukan ketika mengunjungi 
taman kota paling terkenal di Kalimantan Timur 
ini. Taman Bekapai berada di Jalan Jenderal Sudirman, pusat 
kota dengan akses mudah ke berbagai tujuan. Dikelilingi hotel 
berbintang, pusat hiburan keluarga, restoran terbaik dan pantai 
yang tenang.
Strolling down balikpapan downtown, we will see one of the finest park in East Borneo. Taman Bekapai lies on Jalan Jend Sudirman. It is surrounded by hotels, amusement places, best restaurants, calm beaches which can be access easily.
Pada awalnya, taman ini adalah sebuah situs untuk menandai 
penemuan sumur minyak bernilai tinggi oleh perusahaan 
Perancis-Indonesia, PT Total E&P Indonesie pada tahun 
1972.
In the past, this park was a site to commemorate the findings of the oil well worth millions of rupiahs by indonesia- French Oil Company, PT Total E&P Indonesie on 1972.
Karena itulah, di bagian tengah taman ini terdapat sebuah 
patung perunggu dengan air yang memancar. Itu adalah representasi 
dari semburan minyak. Keberadaan taman ini di pusat 
kota, kemudian dipercantik oleh Pemerintah Balikpapan menjadi 
fasilitas publik yang bisa diakses setiap saat.
That is why, a silver statue equipped with fountain stands in the center of this park. it represents of oil bursting from the deep earth. Its beauty becomes the magnet to the citizen, such that it becomes a public facility accessible anytime.
Pada siang atau sore hari, biasanya banyak pengunjung 
yang memanfaatkan taman ini untuk beristirahat, sambil 
menghindarkan diri dari sengatan matahari. Banyak keluarga 
membawa anak-anak mereka bermain, atau sekadar mengobrol.
As one of the pleasant place for family, lots of family pay a visit to this park either to relax or shade under the trees or watching the kids playing around, or even chatting with dearest friend.
Kita juga bisa memanfaatkan jaringan internet nirkabel 
yang disediakan salah satu provider telekomunikasi. Mengunjungi 
Taman Bekapai juga menyehatkan badan, mengapa? Di 
tempat ini bisa kita jumpai batu terapi. Dengan berjalan di 
atasnya tanpa alas kaki, terapi ala akupunktur ini dipercaya 
mampu melancarkan peredaran darah.
It is wonderful to stay there, since we can enjoy free wireless internet connection provided by one the largest telecommunication provider. In this park, we can also enjoy foot therapy. Just stepping on therapy rocks barefoot, this acupuncture- like treatment will give us better health condition. By doing this frequently, we can gain health in affordable way.
Pada malam hari, pengunjung bisa menikmati kuliner kaki 
lima yang menjajakan makanan tradisional. Cobalah pisang 
gapit, salah satu jajan khas Balikpapan yang banyak dijual di 
sini. Dinamakan pisang gapit karena diolah dengan cara menjepit 
pisang kepok. Setelah dibakar setengah matang, pisang 
diguyur dengan saus dari gula merah yang kental. Legit manis 
dan bau wangi semerbak menggoda selera.
In night time, visitor can enjoy traditional culinary dishes. One dish we should try is "pisang gapit". It is called "pisang gapit" for the banana is pressed before grilled. After medium grille, then the banana is poured with thick brown sugar sauce. Its unique scent and sweet flavor is really mouthwatering.
Bekapai juga menyajikan atraksi air mancur yang ditingkahi 
cahaya warna-warni lampu di tengah taman. Ada kolam yang 
mengelilingi tugu berbentuk obor dari perunggu itu. Warga 
Balikpapan biasanya duduk di bangku yang disediakan mengelilingi 
kolam.
On some occasions, the fountain in Taman Bekapai provides spectacular fountain show. When such show occurs, people gather by the pool surrounding the statue. Watching the show in the night has never been better that way.
LAPANGAN MERDEKA

Belum ke Balikpapan jika belum 
menginjakkan kaki di Lapangan Merdeka. 
Salah satu keunggulan lapangan ini 
adalah rimbunan tumbuh-tumbuhan 
hijau. Anda akan melihat pepohonan 
menghiasi hampir setiap lapangan, 
memberi kehidupan bagi lingkungan s
ekitarnya sekaligus menawarkan keteduhan 
dalam iklim tropis.
If you haven't seen Lapangan Merdeka, then you haven't been to Balikpapan. This main point is their green ambience, which gives life to those in it. You can also enjoy its tropical breeze in the tenderness of tropical weather.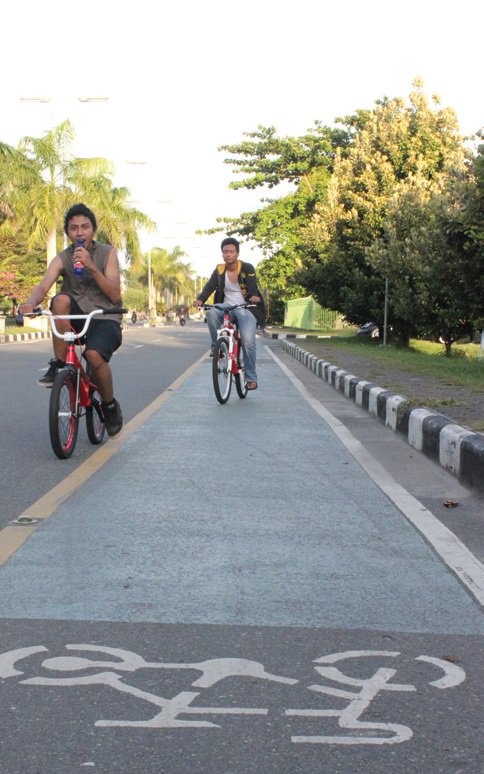 Anda yang gemar rekreasi sambil 
berolahraga, jogging mengelilingi lapangan pada sore hari 
adalah waktu yang tepat. Selain sehat, mungkin bisa menjalin 
pertemanan dengan para penggemar olah raga ini.
For those who like recreational sports, jogging here in the later noon is a perfect option to gain colleague as well as maintaining health.
Masyarakat memanfaatkan kawasan ini sebagai pusat kegiatan 
olahraga. Selain Jogging para biker menjadikan Lapangan 
Merdeka sebagai muster point. Bike track bisa ditemukan di 
kawasan ini. Kita juga bisa bermain sepak bola, layang-layang, 
voli, basket serta softball.
People makes Lapangan Merdeka as a sport center. alongside joggers, bikers use it as muster point. Bike tracks is also available here. we can also see people play soccer, kites, volleyball, basketball as well as softball.
Jika Anda baru pertama ke Balikpapan dan bertanya, ke 
manakah tempat rekreasi keluarga di akhir pekan paling murah dan menyenangkan? Lapangan Merdeka, akan selalu disebut. 
Tanah lapang di tengah kota dengan fasilitas publik untuk 
lesehan di rerumputan, olahraga, bermain bersama anak dan 
menikmati makan ringan, memang hampir selalu ada di tiap 
kota.
If you're new to Balikpapan, you must be wondering an affordable and fun place for family recreation on weekends, right? People will always say Lapangan Merdeka as a perfect place. Its broad space in downtown with public facilities to enable us to sit on the grass, do some sports, have fun with kids, and enjoy snacks.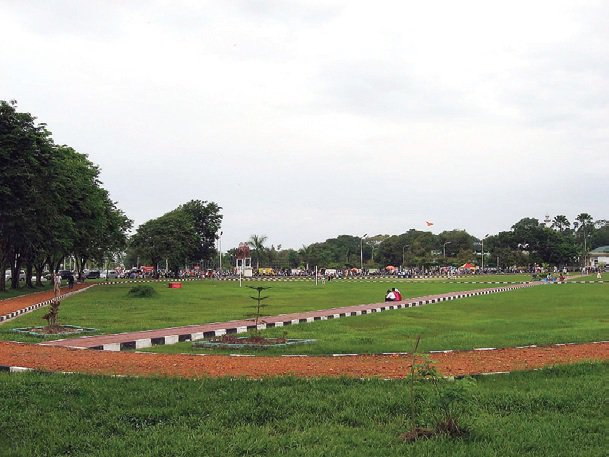 Akan tetapi Lapangan Merdeka punya kelebihan lain. 
Tak jauh dari kawasan ini, berbagai objek pelesiran bisa juga 
dinikmati seperti; Tugu Australia, Pantai Kilang Mandiri dan 
Masjid Istiqomah yang memiliki nilai sejarah.
In addition, not too far from it, we can see other recreation objects such as Australian monument, Kilang Mandiri beach, and the Masjid Istiqomah. Those objects are rich with famous historical value.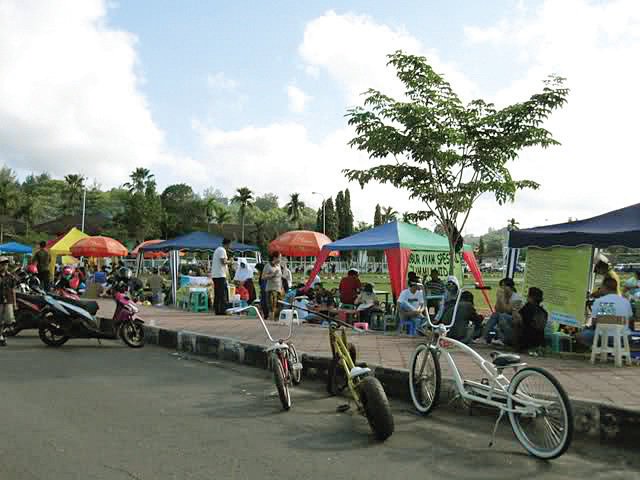 Tak hanya akhir pekan, setiap pagi dan sore, kawasan ini 
juga selalu ramai. Lapangan Merdeka juga berfungsi sebagai 
pusat kegiatan seremonial pemerintah. Dari upacara memorial 
kebangsaan, parade hingga konser musik.
It is not only crowded on weekends, but also every morning and late evening weekdays. The city government Uses this place to hold ceremonial events, from national memorial ceremonies, parade, to music concerts.
TAMAN ADIPURA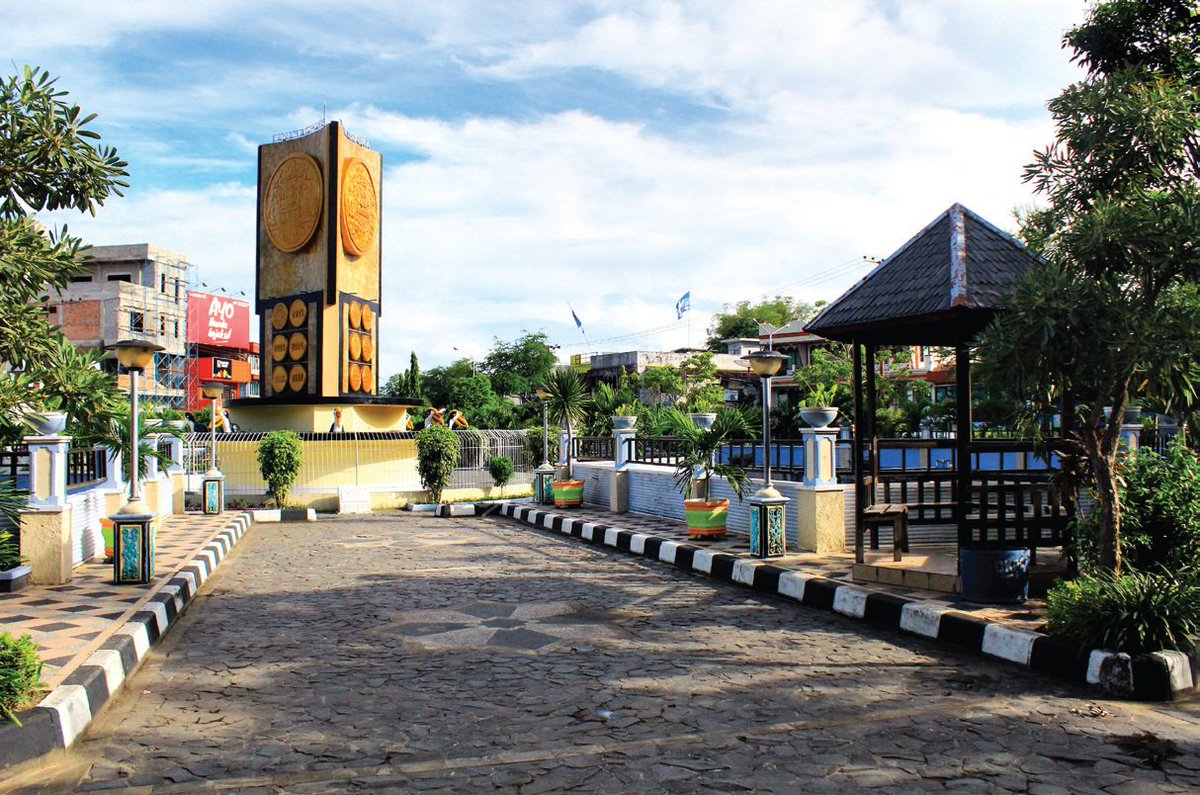 Predikat Balikpapan sebagai kota bersih tidak hanya diakui 
secara nasional. Negara-negara di Asean yang tergabung dalam 
Working Group on Environmentally Sustainable Cities (AWGESC), 
menobatkan kota ini sebagai Kota Terbersih ke dua untuk 
kategori clean land.
Balikpapan is known as a clean city. It has been acknowledged by the ASEAN Working Group on environmentally Sustainable Cities (AWGESC) as the second cleanest city among ASEAN countries on Clean Land Category.
Sebagai kota dan masyarakat yang cinta akan kebersihan, 
keberadaan taman memiliki arti penting. Salah satu taman yang 
menjadi simbol masyarakat yang cinta kebersihan adalah Taman 
Adipura.
The existence of a park has important role in showing how citizen of Balikpapan loves their town's cleanliness. They call it Taman Adipura.
Terletak di Jalan Pangeran Antasari, Karang Rejo, Balikpapan, 
Taman Adipura menguatkan identitas Balikpapan sebagai 
kota Bersih, Indah, Aman dan Nyaman (Beriman). Terhitung sudah 
15 kali Balikpapan meraih penghargaan Adipura dan satu kali 
memboyong Adipura Kencana dengan kategori kota besar.
Taman adipura stands on Jalan Pangeran Antasari, Karang Rejo District, it is represents of Balikpapan's slogan : Clean, Beauty, Safe and Comfortable. Adipura is a award for the best city in cleanliness. it is adorable that Balikpapan won 15 Adipura awards and 1 Adipura Kencana for big city category.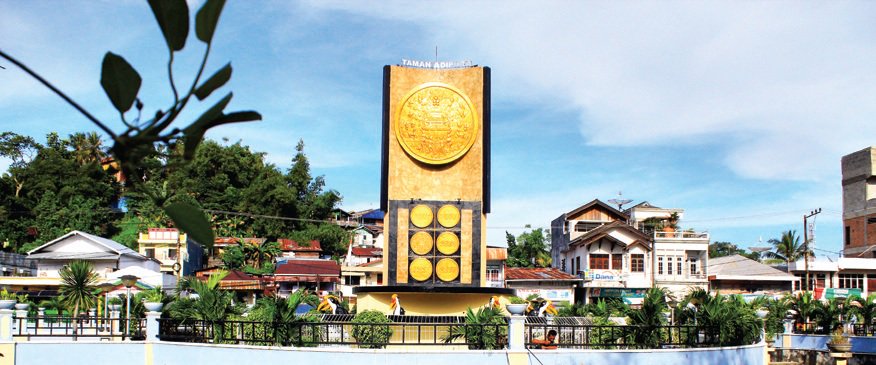 Selain sebagai sebuah identitas kebanggaan, kehadiran Taman Adipura juga memiliki fungsi rekreasi. Gazebo bersih, bunga yang bermekaran, merupakan tempat paling nyaman untuk bersantai.
Aside of as symbol of pride, Taman Adipura is also decorated with clean gazebo, flourishing flower. People love this park for its comfort decoration. So people come here often to be here just to relax.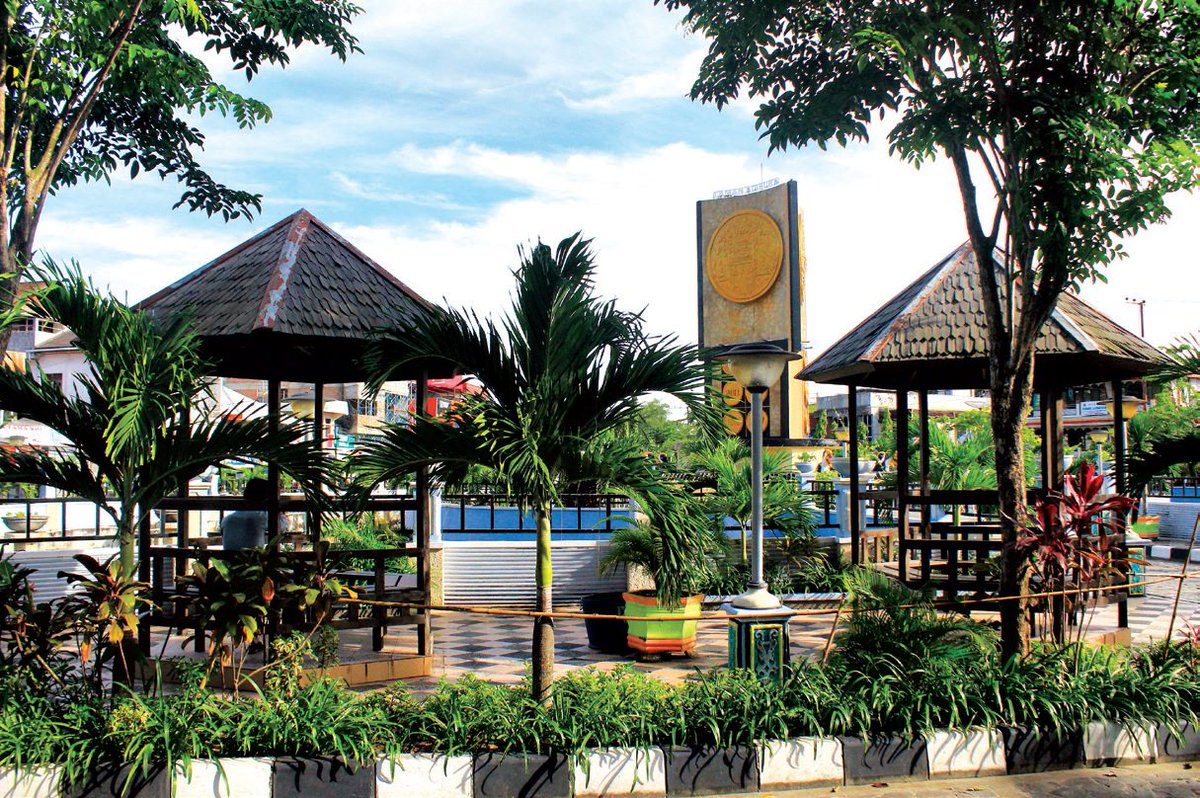 Pada malam hari, Anda bisa menyaksikan cahaya lampu 
berpendaran menyinari taman ini. Kesegarana air mancur yang 
memercik di sekeliling ornamen semakin membuat kita ingin 
berlama-lama.
In night time, this park provides amusing light show. The freshness of the fountain splashing the all the ornaments will make us linger a lot longer.
Taman seluas seperempat hektare ini, sejak 2008 juga difungsikan 
sebagai pengendali air jika hujan turun. Mengatur 
debit air di selokan sekitar taman sehingga mampu meminimalisasi 
banjir. Biasanya, di sore hari, taman ini juga digunakan 
sebagai tempat berolahraga bagi masyarakat sekitar kendati 
hanya berlari-lari kecil.
In this one- quarter hectare area, this park is also functioned as water level controller in rainy season. The operator can adjust the level of water in the canal surrounding the park to minimize the possibility of water flooding the road. Other than that, some neighbors jog around this park in the late afternoon until the sunsets in the horizon.
TAMAN LALU LINTAS

Pada umumnya, taman kota berfungsi sebagai ruang publik 
sekaligus zona hijau yang menyejukkan. Tapi taman yang 
dibangun tahun tahun 2010 ini berfungsi ganda. Masyarakat 
bisa memanfaatkan taman ini sebagai tempat bersantai dan 
rekreasi, sekaligus menjadikannya sumber ilmu.
It is common to see city park as a public zone as well as soothing green zone. But there is one park that has both functions. People can use this park as a place to relax, to have recreation as well as a source of knowledge.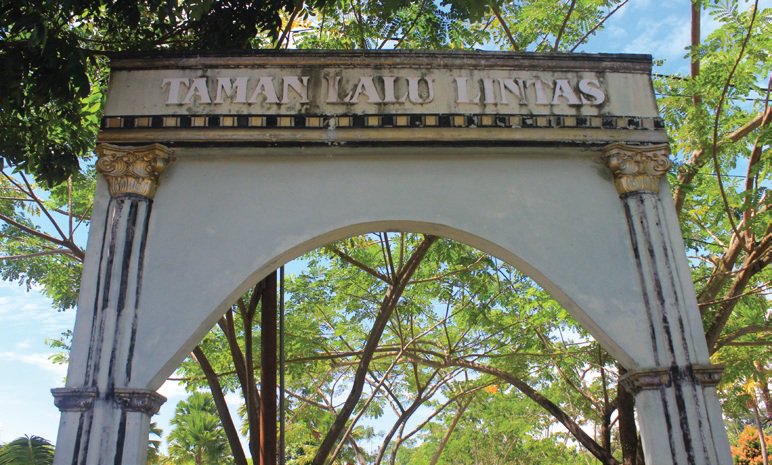 Taman Lalu Lintas di Jalan Sepinggan Baru, Balikpapan Selatan 
menyajikan informasi tentang lalu 
lintas. Dibuat atas prakarsa Pemerintah 
Kota Balikpapan, Dinas Perhubungan 
dan Direktorat LaluIintas Kepolisian 
Daerah Kalimantan Timur mewujudkan 
taman dengan nilai edukasi.
This Taman Lalu Lintas (traffic park) on Jalan Sepinggan Baru serves information about traffic signs. It is made by the innovation of Government of Balikpapan, transportation agency of Balikpapan, and the Traffic Department of Police of East Kalimantan province. Their initiative was based on the need to build a park with educational function.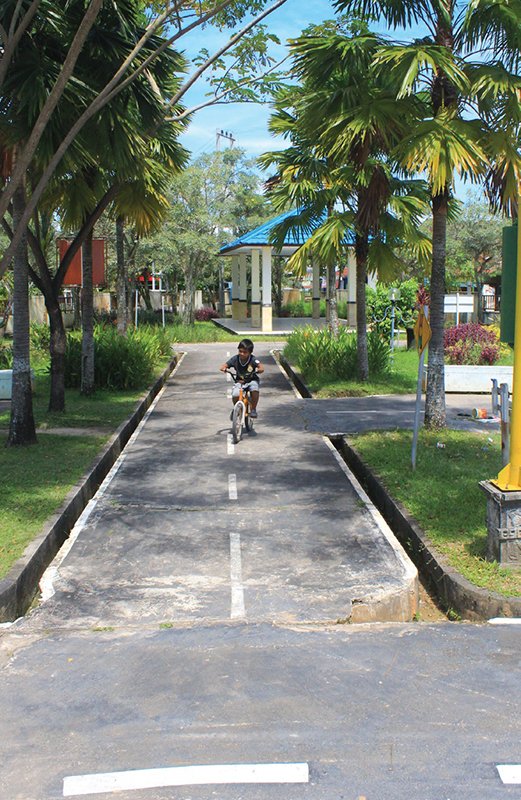 Taman ini menjadi salah satu andalan pemerintah menanamkan 
kedisiplinan dan etika di jalan raya pada semua 
kalangan, khususnya anak usia dini.
This park is one of government's main attraction to implement discipline and traffic ethic on the road for all citizens, especially for kids.
Sebuah papan besar berisikan pelbagai jenis rambu-rambu 
berdiri tegak. Taman berbentuk jalan lengkap dengan lampu 
lalu lintas, zona menyeberang pejalan kaki, dan rambu-rambu 
yang biasa kita temui di jalan raya. Bisa dikatakan taman ini 
adalah miniatur kondisi lalu lintas sebenarnya.
This park is designed to be a miniature of traffic on the real road. We can see traffic sign board, pedestrian crossroads, traffic lights. Everything in miniature form to give children a better insight of traffic.
Biasanya, murid taman kanak-kanak 
belajar langsung di sini. Pengelola menyediakan 
mobil mainan sebagai sarana 
praktik. Polisi lalu lintas juga disiagakan 
saat praktik belajar berlangsung. Tempat 
ini sangat cocok untuk bersantai 
sambil mengenalkan peraturan lalu lintas 
pada buah hati Anda.
Usually kindergarten students learns traffic by visiting this park. The kids are provided with mini cars to practice. The students are being guided by traffic policeman to show them what it is like in the traffic. As well as a place to learn, this park would be a great place to spend your quality time with family.
TAMAN WILUYO PUSPOYUDO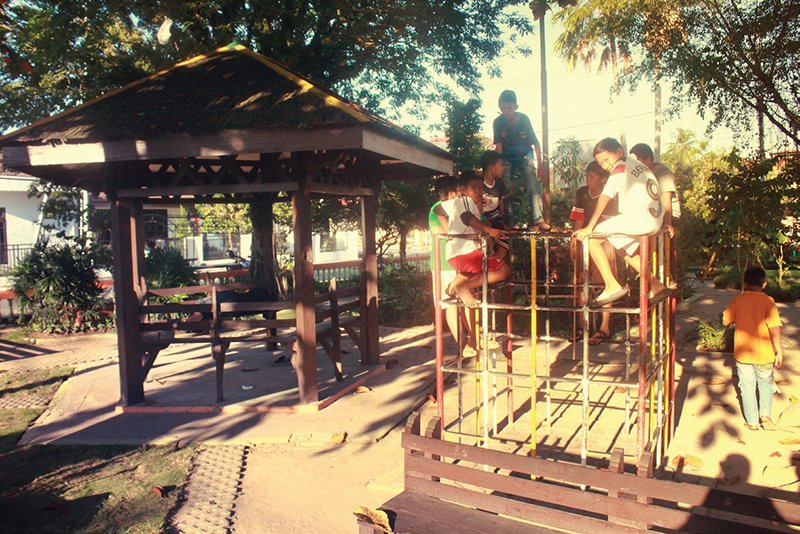 Wiluyo Puspoyudo adalah nama seorang pahlawan nasional 
yang diabadikan menjadi sebuah jalan utama di Balikpapan. 
Berada di pusat kota, Jalan Wiluyo Puspuyudo merupakan 
kawasan elit di kota ini. Berada di samping Kantor Pemerintah 
Kota Balikpapan, Wiluyo Puspoyudo juga dikenal sebagai salah 
satu kawasan kuliner tradisional terbaik. Ada rumah makan 
prasmanan dan restoran bebek goreng yang sangat terkenal; 
Haji Slamet.
Wiluyo Puspoyudo is a name of a national hero that becomes the name of one main street in Balikpapan. Lies in the downtown, Jalan Wiluyo Puspoyudo is one elite area. Located nearby the office of Balikpapan government, it is also the location of extravagant culinary area. There, we can find one of the best fried duck in the city, Fried Duck Restaurant of Haji Slamet.
Meski posisinya berada di dekat pusat bisnis dan pemerintahan, 
Jalan Wiluyo Puspoyudo terkesan hijau. Keberadaan 
taman yang membuat Anda nyaman berjalan di sini. Ada dua 
taman dengan karakteristik berbeda. Kita akan membahasnya 
satu persatu-satu.
Although Jalan Wiluyo Puspoyudo is locates side by side with government and business district, it has green ambience that makes you enjoy walking in its area. We shall discuss two parks built in it.
Taman Wiluyo Puspoyudo I berdekatan dengan taman 
bermain anak. Tak heran jika pemerintah melengkai taman 
ini dengan arena bermain sederhana. Para orangtua murid 
biasanya menghabiskan waktu luang menunggui putranya di 
taman ini.
Taman Wiluyo Puspoyudo I, comes with children playground. It attracts parents to spend their time with their children. They are thankful that government built it for them.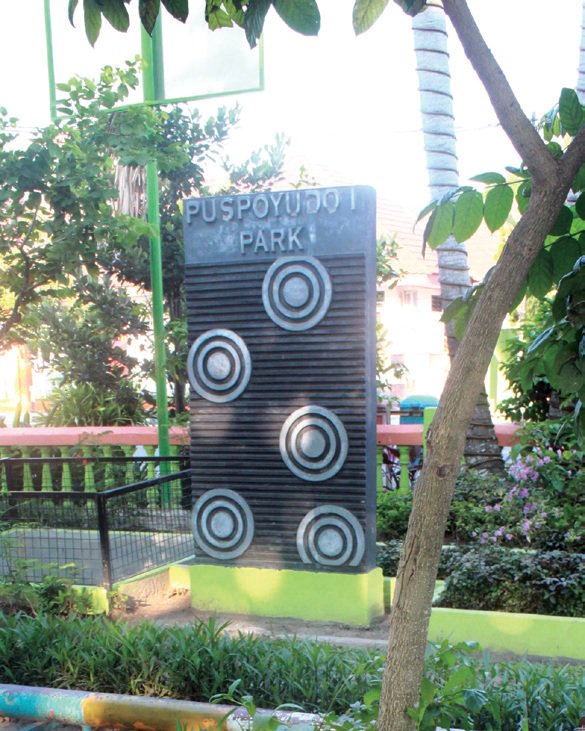 Beberapa gazebo juga disediakan untuk bersantai pengunjung. 
Bangku-bangku tma juga dibiarkan terbuka. Beragam 
tanaman dan pepohonan, seperti Asam Londo, Mahoni, Heliconia, 
Alamanda, Asoka, Ketapang, Angsana, Krokot, Kembang 
Merak, Melati Paris menghiasi area Taman Wiluyopuspoyudo I.
The park provide some gazebos and chairs for the visitors to relax. Lots of trees such as Asam Londo, Mahoni, Alamanda, Asoka, Ketapang, Heliconia, Angsana, Krokot, Kembang Merak, and Melati Paris are flourishing Taman Wiluyo Puspoyudo I.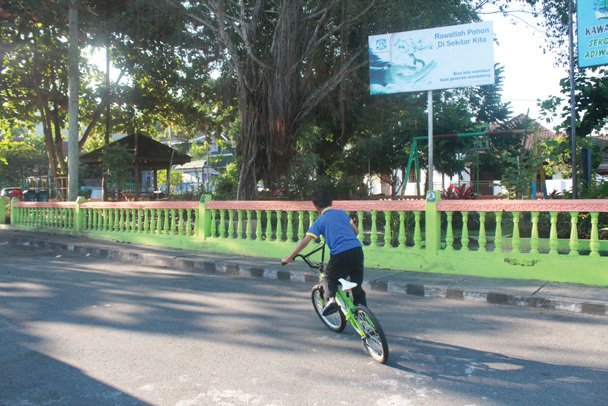 Sebuah papan informasi dipasang di tengah-tengah taman 
menjelaskan tanaman apa saja yang ada. Bernilai edukasi mengenalkan 
tanaman kepada buah hati. Tempat ini sangat cocok 
sebagai pilihan bersantai menghabiskan hari bersama keluarga, 
atau melakukan kegiatan kecil bersama teman-teman.
An information board is placed in the centre of the park. It contains information about all the vegetation in it. It can be helpful for parents to educate their children about vegetation while spending their time in a relaxed atmosphere. for other people, they can enjoy the ambience by simply chatting around with their close friends.
Jika lapar, jejeran warung kaki lima di sekitar taman bisa 
menjadi alternatif. Menambah keseruan kongkow-kongkow 
sembari menikmati kudapan yang sesuai selera.
Moreover, a line of street merchants provide us with various snacks and drinks. They are ready to accompany our hangout with their products, all for our comfort.
TAMAN WILUYOPUSPOYUDO II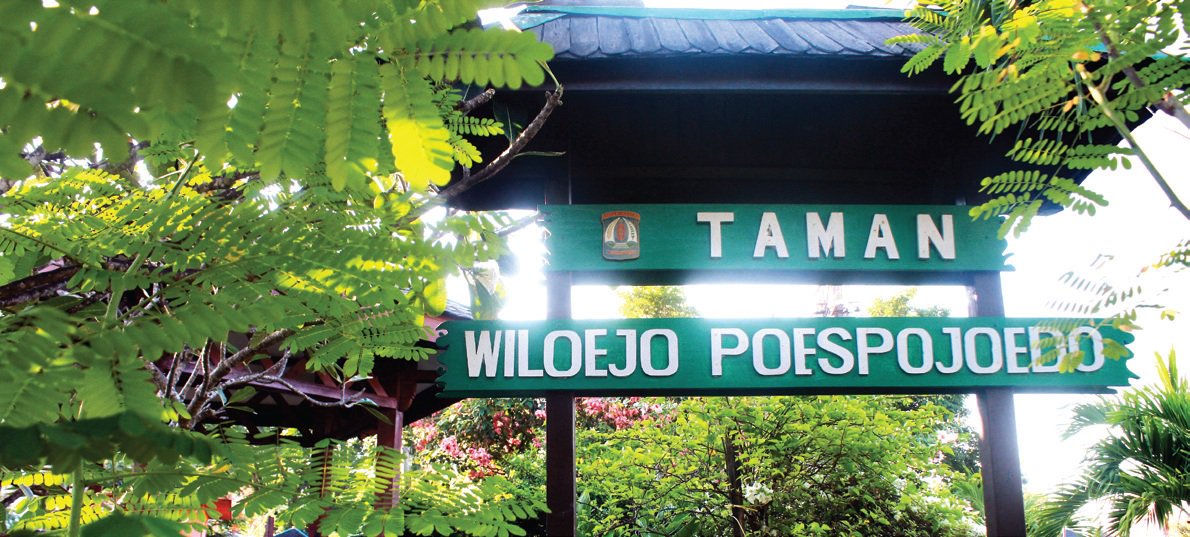 Hanya berjarak sekitar 300 meter, taman ke dua menghiasi 
Jalan Wiluyo Puspoyudo. Terlihat lebih luas dengan tanaman 
yang semakin banyak. Warga Balikpapan biasana mengunjungi 
taman ini pada pagi atau sore.
Only 300 meters away from the first park, we can see the second park of Jalan Wiluyo Puspoyudo. People prefer this park for it has more trees and plant that soothes people shading underneath them.
Selain bercengkerama dengan keluarga, gazebo di taman 
ini cocok untuk diskusi.. menjelang senja, banyak pedagang 
makanan. Bakso, mi dan jajanan tradisional dengan harga murah 
bisa diperoleh di tempat ini.
Peoplused to hangout here in the late afternoon, either to chitchat or just snacking bakso, noodles with family under the gazebos. No worry, since many merchants provide yummy and affordable snacks.

Taman ini terlihat lebih berwarna karena mekarnya 
bunga-bunga yang sangat terawat. Susunan taman 
dengan jalur setapak di antara tanaman-tanaman 
membawa kita seperti di surga bunga. Persis di tengah-tengah, 
berdiri menjulang Monumen Wiluyo Puspoyudo. 
Pada prasasti tertulis diresmikan oleh HM Ardans pada 
20 Januari 1992, Gubernur Kalimantan Timur masa itu.
This park seems more colorful forits flowers are well treated. They are designed in such a way that we're walking on the pavement to heaven of flowers. Exactly in the center of it, Monument of Wiluyo Puspoyudo stands firm. It was inaugurated on January's 20th, 1992, by the governor of East Kalimantan at the time, HMA ARDANS.

Bagi penggemar fotografi, aktivitas 
di sekitar monumen layak untuk diabadikan. 
Para pehobi foto di Balikpapan 
biasa menjadikan kawasan ini sebagai 
objek foto mereka. Selain bernilai historis, 
lokasi yang menarik juga mempercantik hasil foto.
To photography hobbyists, they can spot activities in the monuments. The hobbyists can use this park as a place to take photos. The park provides them with historical value plus its beauty in many angles.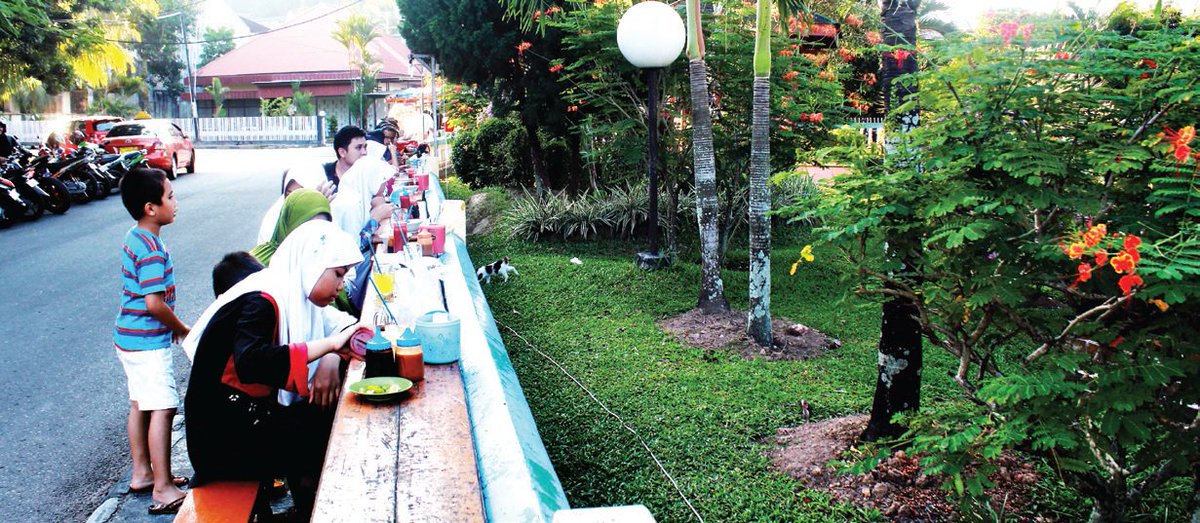 Tidak perlu resah jika Anda tiba-tiba ingin pergi ke 
kamar kecil ketika tengah menikmati kesejukan taman ini, 
ada sebuah toilet yang disiapkan untuk kenyamanan pengunjung.
Whenever you feel like you need to go to the toilet, there's no worry. This park provides toilet facilities. Therefore, we can enjoy this place a little bit longer.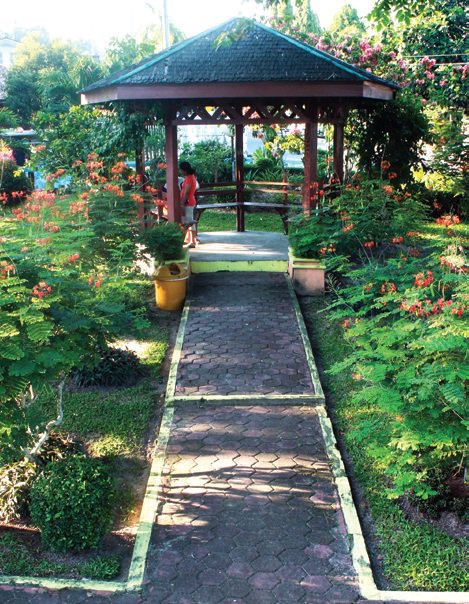 Suasana nyaman, kuliner murah dan lokasi yang apik 
biasanya melenakan pengunjung hingga betah berlamalama. 
Taman-taman di Balikpapan tak hanya member 
hiburan murah, tetapi juga memberi kualitas pada waktu 
santai Anda.
Comfort place, cheap meal, and perfect location usually soothes visitors to stay longer. Parks in Balikpapan provide not only affordable vacation, but also quality time with family.[*]
Source : Majalah DISCOVER BALIKPAPAN Edisi ke 20 Agustus 2013