Pantai dan gedung-gedung tinggi hanyalah sebagian lanskap Balikpapan yang nampak dalam pandangan. Tetapi "Banua Patra" ini memiliki lebih dari apa yang disajikan dari balik jendela pesawat. Dengan kondisi geografi dikuasai perbukitan (mencapai 85 persen), ada banyak sisi Balikpapan menunggu anda telusuri. Cobalah Trail Adventure!
Beaches and tall buildings are only a part of Balikpapan that we can see from the windows of airplane. This city has more to offer for you to explore. Its geographical contour has 85 percents of hills. So, try Trail Adventure!
Berkunjung ke pantai Manggar, penangkaran buaya Teritip, Enklosur Beruang Madu, bahkan Bukit Bangkirai, mungkin sudah Anda lakukan. Tetapi pernahkah terpikir berkunjung ke lokasi-lokasi wisata itu melalui rute ekstrem?
You may have visited Manggar beach, Teritip's crocodile breeding, sun bear enclosures, or even exploring Bukit Bangkirai, but have you visited those spots via extreme routes?
Dengan kontur kawasan beragam; hutan primer, perbukitan terjal, sungai, lumpur dan sebagainya, Balikpapan kaya akan trek petualangan. Jalur yang melimpah memicu demam wisata jelajah kendaraan "penggaruk tanah" di kota ini.
Enriched with various contours such as primary forest, steep hills, rivers, mud, Balikpapan is rich of adventurous tracks. This abundance of track intrigues people who are fond of this adventure in the city.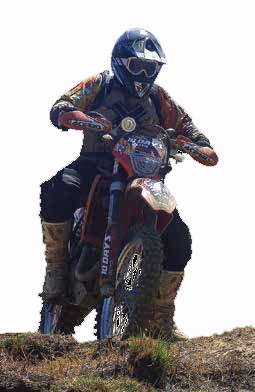 Dari berbagai event yang digelar, jumlah peserta selalu over kuota. Belum lama ini, kejuaraan berskala nasional mampu menarik minat peserta dari berbagai bangsa.
There has been multiple events held in Balikpapan, and they were flooded with participants. Not long ago, a national championship had attracted multinational participants.
Daya tarik utama trail adventure di Balikpapan adalah medan yang sesuai dengan berbagai karakter motor trail saat ini. Kombinasi speed (kecepatan), handicap (tantangan) dan pemandangan alam yang disajikan, adalah suguhan utama para pecinta trail adventure. Di sini, Anda bisa menjajal ketahanan fisik, mental, sekaligus ketangguhan mesin kendaraan.
The main attraction in Trail Adventure in Balikpapan is the terrain that suits many of the latest trail bike's characteristic. The combination of speed, handicap, and scenery are the main treat for trail adventure lovers. In Here, you can try your physical endurance, mental toughness as well as vehicle engines.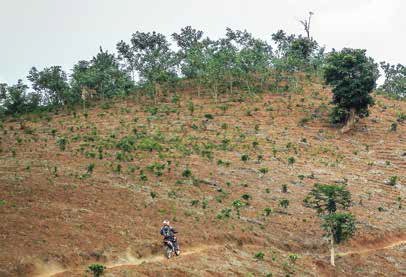 RUTE / ROUTE
Sebelum memulai petualangan menikmati keindahan alam Balikpapan dari atas kuda besi, ada baiknya Anda mengasah keterampilan di Sirkuit Enduro Dhalas 89. Lintasan khusus penggemar trail ini berada di belakang Markas Polda Kalimantan Timur, Jl. Syarifuddin Yoes, Balikpapan. Jalur Enduro Dhalas cukup menantang dengan halang-rintang ban mobil, rebahan pohon, bebatuan, tanjakan, turunan tajam serta hutan dengan total sepanjang 2,5 kilometer.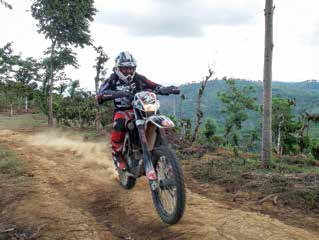 Before starting the adventure to enjoy the beauty of Balikpapan scenery on your ride, you'd better test your skill at Sirkuit Enduro Dhalas 89. This special-built-for-trail adventure is set in Jl Syarifuddin Yoes, Balikpapan. Enduro Dhalas track is challenging enough, serving us obstacles made of tyres, tree branches, rocks, slope and steep downhill as well as woods, ranging in total of 2.5 kilometers.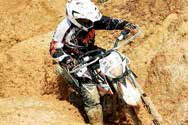 Meski ujian sesungguhnya bukan di sirkuit, namun para penggemar trail menilai jalur ini cukup menguras stamina. Pada sore, setiap akhir pekan, klub-klub motor trail di Balikpapan memanfaatkan sirkuit ini untuk berlatih. Anda bisa bergabung bersama mereka untuk mengasah kemampuan, sekaligus berbagi ide lokasi touring. Selepas menguasai sirkuit ala motocross ini, Anda bisa menyusuri hutan dengan jalur licin dan trek tunggal.
Although the circuit is not the real challenge, but it drains the stamina of the trail lovers. Usually, in the afternoon, trail bike club members come to this place to train themselves. We can join them to gain skill as well as sharing ideas about the next touring location. After taking down this circuit, we can challenge ourselves crossing down the forest in single slickery tracks.

REGENCY-ENCLOSUR BERUANG MADU
Rute pertama menuju enklosur beruang madu jalan Soekarno-Hatta kilometer 23. Sebuah jalur "tikus" yang berada di samping perumahan Balikpapan Regency adalah pilihan memulai perjalanan. Tantangan sudah di depan mata; bukit terjal, tanah berlumpur dan kubangan air. Jalur off road yang hanya cocok untuk jiwa-jiwa penjelajah terbentang hingga 35 kilometer.
Our first route to the enclosure of Sunbear in Jl Soekarno-Hatta km 23, we go to the shortcut next to the Balikpapan Regency housing complex. Before our very eyes, we can see steep hills, muddy land, and mudholes. This off-road track lies 35 kilometers are ready to test the nerves of adventurers.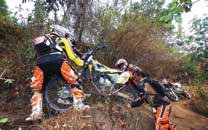 Untuk melindas genangan air bercampur lumpur, tak hanya kemampuan fisik dan kendaraan yang dibutuhkan, tetapi juga keterampilan. Kerjasama tim, krusial pada saat-saat tertentu. Sampai di atas bukit, sambil beristirahat sejenak, kita bisa menyaksikan sisi lain hiruk pikuk kota.
To run over the mud holes, it needs not only the physical ability and the vehicle power, but also the skill of the rider. Teamwork is essential and crucial in critical times. On top of the hill, we can see the hustle and bustle of Balikpapan.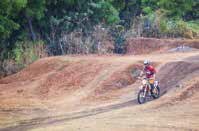 Meski rute ini bukan untuk enduro (ketahanan), ada satu spot yang bisa menyulitkan. Tanjakan Setan, nama spot ini kemungkinan akan menguras tenaga, pikiran dan konsentrasi tinggi. Spot ini terletak antara kilometer 8 sampai dengan kilometer 10. Karakteristik tanjakan ini adalah tanah liat yang licin jika diguyur hujan, jalur tunggal, serta adanya sebuah tikungan. Panjang keseluruhan mencapai 20 meter. Perlu kerjasama tim untuk bisa lolos dari tantangan ini.
Although this route is not for endurance, there is one thought spot. The Climb Of Devil, this is the spot that drains our mind, power and high concentration. This spot lies between km 8 and km 10. The characteristic of this climb is slick mud following the rain. The total length of the climb can reach 20 meter long. We need tough teamwork to get through this challenge.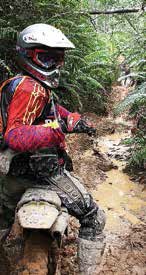 Jalur menuju Enklosur Beruang Madu melintasi Waduk Manggar, sebuah kolam raksasa berfungsi paling vital bagi Balikpapan. Waduk ini sebagai sumber air baku warga. Anda bisa beristirahat, menikmati pemandangan yang disajikan atau jika beruntung bisa memancing.
The track towards sun bear enclosure crosses Waduk Manggar, one giant pond acts as the most vital water resources for Balikpapan citizen. This is the place to rest. While resting, we can enjoy the amazing scenery and -if lucky- we can go fishing.
SEPINGGAN-TANAH MERAH
Tanah Merah di Kelurahan Samboja Kecamatan Handil Kabupaten Kutai Kartanegara memiliki pemandangan pantai yang masih alami. Selain berpasir putih dan dataran landai, juga banyak pepohonan cemara. Rute menuju Tanah Merah menjadi salah satu tujuan yang paling diminati oleh para crosser.
Tanah Merah, Kelurahan Samboja, Kecamatan Handil, Kabupaten Kutai Kartanegara has the natural view of the beach. White sands, sloping terrain, as well as pines. The route heading for Tanah Merah has always been one of the crosser's favorite.
Keistimewaan lain pantai ini adalah luasnya jarak antara daratan dengan air laut. Kondisi ini bisa dimanfaatkan sebagai trek dadakan. Lokasi berkemah juga terhampar luas di antara pohon-pohon cemara.
The other speciality of this beach is the vast area between land and sea. This condition makes a perfect occasional track. The camping spot lies vastly among the pines.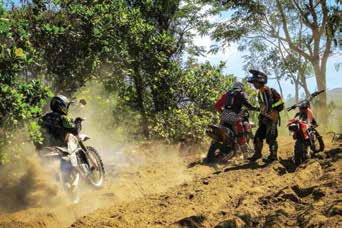 Touring menuju Tanah Merah dimulai dari Sirkuit Enduro Dhalas 89, Sepinggan. Melintasi bukit, kubangan lumpur dan handicap buatan yang cukup memacu adrenalin.
The touring to Tanah Merah begins form Sepinggan Enduro Dhalas 89 Circuit. Our adrenaline will be directly pumped by the challenge of hill-crossing, mud holes and artificial handicap.
Jalur Tanah Merah juga melintasi sejumlah lokasi wisata seperti pantai Manggar, penangkaran buaya Teritip, Gunung Tembak dan pantai Ambalat. Total jarak yang ditempuh adalah 45 kilometer.
Tanah Merah route crosses several tourism spots such as Manggar beach, Teritip Crocodile breeding, Gunung Tembak, and Ambalat beach. In total, the route takes up 45 kilometers.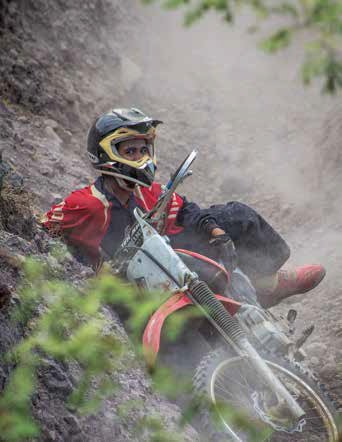 BUKIT BANGKIRAI – TAHURA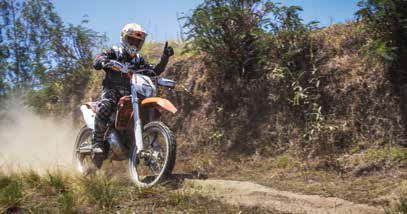 Bagi crosser yang sudah memiliki jam terbang cukup tinggi, rute ini bisa dicoba. Kawasan Bukit Bangkirai yang masih dikelilingi hutan belantara adalah jalur ekstrem yang menguji nyali dan fisik.
To crossers who have enough experience, this is a route you must try. The extreme route of Bukit Bangkirai which is still surrounded by forest will test both your physical endurance and guts.
90 persen jalur ini berupa tanah liat, sehingga menjadi lumpur jika hujan turun. Trek ini salah satu idaman para trail adventurer. Syarat paling utama melintasi jalur ini adalah tim yang tangguh, serta orang yang mengenal medan.
This route is 90% made of mud, so it will be very slippery in rain. This is one of the favorite by trail adventurers. The main requirement to cross this route is a solid team and someone knowledgeable about the terrain.
Di Balikpapan, hanya komunitas yang tergabung dalam KOTA (Komunitas Trail Adventure) yang memiliki keahlian membelah jalur ini.
In Balikpapan, there is one community, and only one yet, who has the skill to harness this route. This community is called KOTA (Komunitas Trail Adventure/Trail Adventure Community).

SEMOI-TAHURA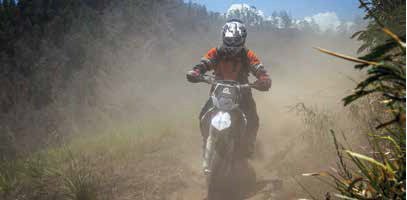 Semoi di Kabupaten Penajam Paser Utara (Dulu bernama Balikpapan Seberang), punya nama besar bagi pecinta off road di Indonesia. Berulang kali kejuaraan nasional speed off road berlangsung di kawasan ini.
Semoi is located in Kabupaten Penajam Paser Utara (previously called Balikpapan Seberang). It is very well-known to those off-road lovers in Indonesia. Many national speed offroad championship was held here.
Karakter Semoi adalah trek yang panjang, sangat cocok untuk penggemar kecepatan. Tapi jangan pula dilupakan tantangan sepanjang jalur, serta pemandangan hutan Kalimantan Timur yang masih alami.
The characteristic of Semoi is its long tracks, suitable for those lovers of high speed. Long tracks doesn't mean it doesn't mean it has no obstacle. Riders should aware not to let the beautiful scenery of Kalimantan Timur's forest blind them of the obstacles ahead.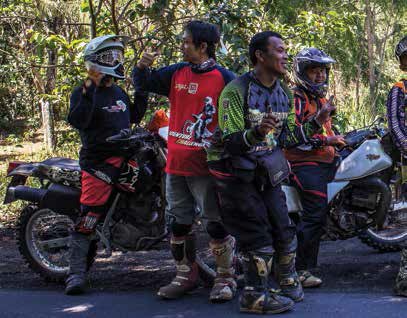 Salah satu lintasan yang paling terkenal adalah Jalur 62 atau Micks Track. Nama Micks didedikasikan untuk Michael Adrian Headly, seorang warga Negara Australia yang meninggal dunia saat mengikuti Balikpapan Two Days Enduro, awal 2013.
One of the famous track is the track 62 or Micks Track. Micks is taken from Michael Adrian Headly, commemorating his decease while participating Balikpapan Two Days Enduro in early 2013.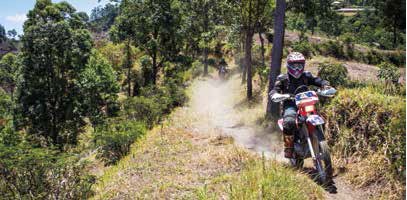 Jalur ekstrem ini biasanya ditutup pukul 3 sore, atau lebih cepat jika cuaca sangat buruk. Pada dasarnya rute Semoi-Tahura hanya digunakan bagi pecinta endure trail, bukan seorang trail adventure.
This extreme route is usually closed by 3 PM or earlier should the weather gets worse. Basically, Semoi-Tahura route is intended for trail endurance instead of trail adventure.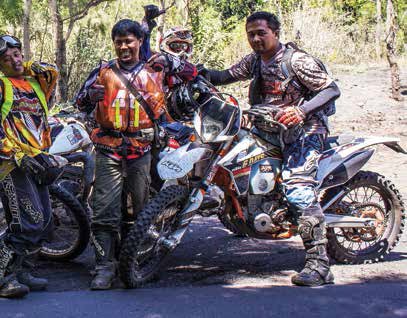 JELAS MIRING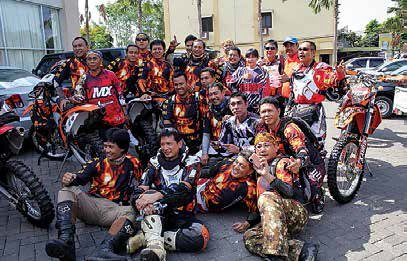 Bagi pemula yang ingin menelusuri jalur-jalur penjelajahan di Balikpapan, bergabung dengan komunitas trail adalah pilihan satu-satunya. Ada banyak komunitas yang bisa menjadi pilihan, seperti BTAC (Balikpapan Trail Adventure Community), Trabas, Mantab, LTP dan KOTA.
To beginners who wants to venture the adventure tracks in Balikpapan, joining trail community is the only option available. You can choose BTAC (Balikpapan Trail Adventure Community), Trabas, Mantab, LTP and KOTA.
Mereka punya agenda rutin dengan nama program; JELAS atau Jelajah Sabtu dan MIRING atau Minggu Touring. Jika belum memiliki kendaraan, Anda bisa menyewa dengan harga Rp. 300 ribu untuk satu hari pemakaian Kawasaki KLX 150.
They have routine agenda named JELAS (Jelajah Sabtu) and MIRING (Minggu Touring). If you haven't got a ride on your own, you can rent a Kawasaki KLX 150 for Rp. 300.000 for a whole day long.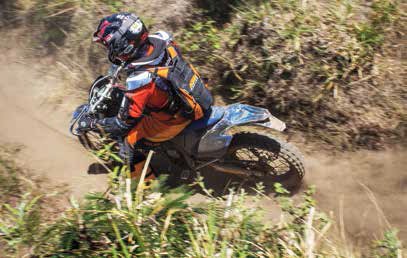 TIPS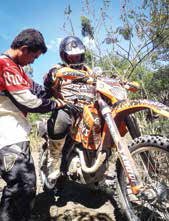 Bagi Anda yang ingin menerjuni trail adventure, ada sejumlah persiapan wajib. Berikut tips dari Robby Susanto, Sekretaris Komunitas Trail Adventure (KOTA) Balikpapan.
1. Motor
Ingat, meski hanya berpetualang, namun medan yang akan ditempuh bukanlah jalur standar. So, jangan pernah menggunakan motor standar untuk trail adventure. Gunakan motor yang memiliki spesifikasi khusus.
2. Fisik
Bukan hanya motor, fisik Anda juga harus fit sebelum melenggang. Olahraga ringan sebelum memacu mesin motor perlu untuk meregangkan otot.
3. Teknik
Meski hanya touring, mempelajari teknik jalur off road sangat perlu. Ini mengantisipasi jika kita melintas di lumpur, tanjakan maupun turunan licin. Jika tak paham teknik, motor bisa rusak, tenaga juga habis.
4. Rute
Masing-masing daerah punya karakter. Karena itu, mencari informasi tentang rute yang akan ditempuh akan memudahkan perjalanan Anda.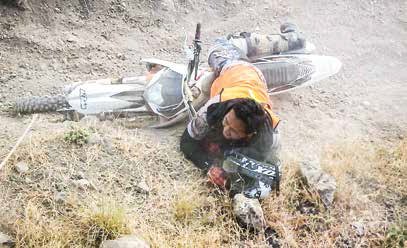 TRAIL GEAR
GOOGLE
– Fungsi utamanya melindungi mata dari debu dan kotoran yang masuk melalui helm.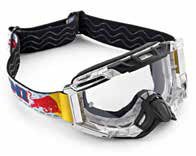 BODY PROTECTOR
– Harganya memang mahal, tapi fungsinya untuk melindungi bagian tubuh kita yang paling vital.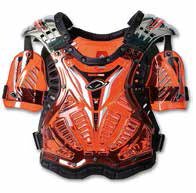 DECKER
– Jatuh bangun saat bertualang itu biasa, alat ini yang akan melindungi bagian kaki agar tak luka.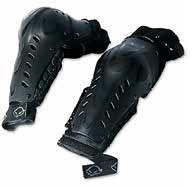 BOOTS
– Salah satu perlengkapan yang krusial saat Anda melintasi jalur berlumpur maupun semak berduri.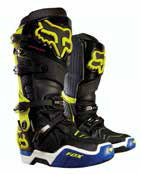 HELM
– Perlengkapan wajib bagi setiap pengendara motor.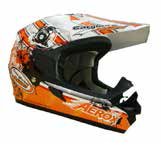 SARUNG TANGAN
– Agar bisa mencengkeram gas sesuai kecepatan yang diinginkan, perlengkapan ini sangat penting. Juga untuk melindungi tangan agar tak lecet.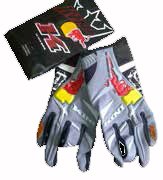 Source : Majalah DISCOVER BALIKPAPAN Edisi ke 22 Oktober 2013