Kegembiraan memancing bagi sebagian orang adalah banyaknya strike dan ikan yang didaratkan. Untuk mendapatkan ini, pemancing di alam liar dituntut memiliki umpan, piranti fisik baik, serta pengetahuan mencari spot ikan yang tepat. Tetapi jika Anda memancing hanya untuk bergembira bersama keluarga, Balikpapan menyediakan banyak spot pemancingan yang menantang. Inilah sebagian di antaranya;
Fishing joy for some people is the number of strike and the fish landed. To get this, anglers in the wild are required to have fishworm, a good physical tools and knowledge for the right fishing spot. But if you are fishing just for fun with the family, Balikpapan provides many challenging fishing spot. These are some of them;
WIDURI

Terletak di perbatasan Balikpapan-Kutai Kartanegara, Kolam Pemancingan Widuri salah satu yang digandrungi penikmat strike di kota ini. Bagi para mancing mania, memancing di kolam, mungkin kurang menantang. Akan tetapi yang menjadi nilai lebih adalah; Anda dapat memancing bersama seluruh keluarga.
Kolam pemancingan ini dilengkapi dengan vila sebagai tempat menginap. Suasananya alami pedesaan, dengan udara yang sejuk di lembah perbukitan. Ada 19 vila berdiri di 7 blok dengan harga sewa mulai Rp 200 ribu permalam. Cukup terjangkau bukan?
Widuri menyediakan 9 kolam berisi ikan air tawar. Ada ikan emas, nila, patin, bawal, lele dan gabus memenuhi kolam berukuran, 40 x 70 meter, 40 x 50 meter dan 60 x 100 meter. Biasanya tak perlu menunggu waktu lama merasakan strike, karena kolam-kolam itu dipenuhi ikan. Dalam seminggu bisa 2 hingga 3 kali pengelola menambahkan ikan sebanyak 5 ton dalam kolam.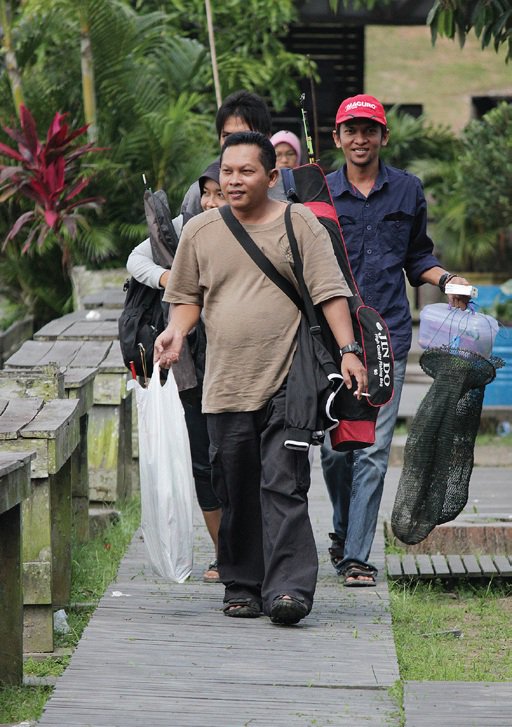 Kemudahan lain mengail di lokasi ini, Anda tak perlu repot membawa alat pemancingan. Ada joran yang bisa kita sewa seharga Rp 5 ribu hingga Rp 25 ribu. Keasyikan lainnya adalah, kita bisa membawa pulang ikan hasil pancingan, atau meminta petugas memasak di tempat.
Jika tak suka memancing, ada tempat bermain bagi putra-putri Anda. Arena sepeda air, outbound dan flying fox. Beberapa sarana baru tengah dipersiapkan untuk menambah hiburan bagi pengunjung. Untuk acara acara tertentu, Widuri juga memiliki gazebo dengan kapasitas 200 orang yang dilengkapi dengan sound system.
Widuri is one of the most adorable fishing spot in Balikpapan. Located in the border of Balikpapan and Kutai Kartanegara, though to many high class fishing hobbyists is considered less challenging, Widuri has its own plus point; a place where you can fish with your family. This fishing spot has several villas for you to stay overnight. Staying there, we will enjoy the suburban ambience accompanied by the breeze of the wind. They have 19 villas in 7 blocks, whose rate starts from IDR 200.000 per night. It's pretty much affordable, isn't it?
Widuri provides 9 ponds of fresh water fish. They have goldfish, catfish, nila fish, bawal fish, patin fish and gabus fish filling up 40x70m, 40×50 m, and 60×100 square meter ponds. You don't have to wait too long to get a strike, since Widuri owner fills the ponds with no less than 5 tones of fish every 2 or 3 times a week. WOW!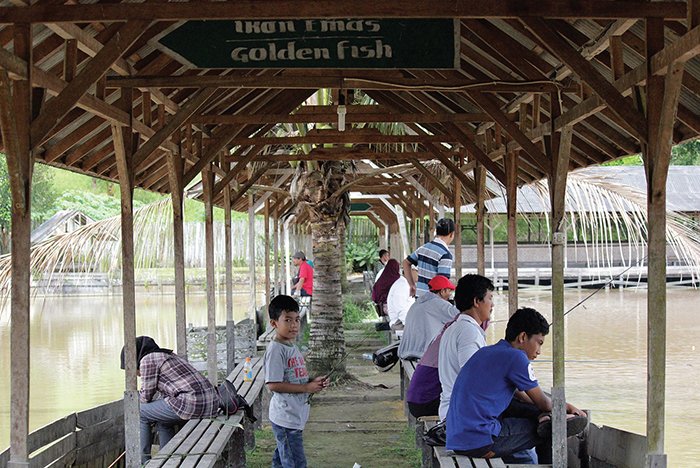 Another facility that we can get here is that we don't have to bring our own fishing rod set. They also provide bait to rent, starting from IDR 5.000 to 25.000 each. After fishing, we can take all our fish to home, or have it cooked as an ala carte lunch with your family in the villa.
If you are not very into fishing, you can still have fun in the playing ground with your children. They provide water cycling, outbound and flying fox. for some occasions, Widuri provides a gazebo equipped with a set of sound system to entertain 200 people in it.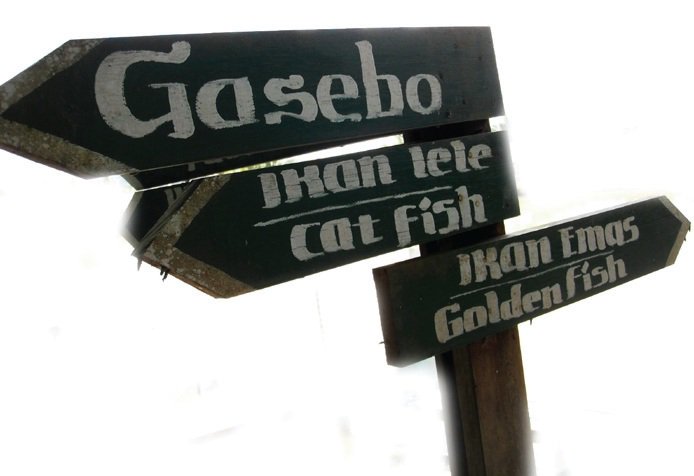 Siapapun dan kapanpun bisa berkunjung, karena tempat ini tak mengenal libur, hari raya sekalipun. Tapi, reservasi-lah terlebih dulu agar tak kehabisan tempat untuk akhir pekan menyenangkan.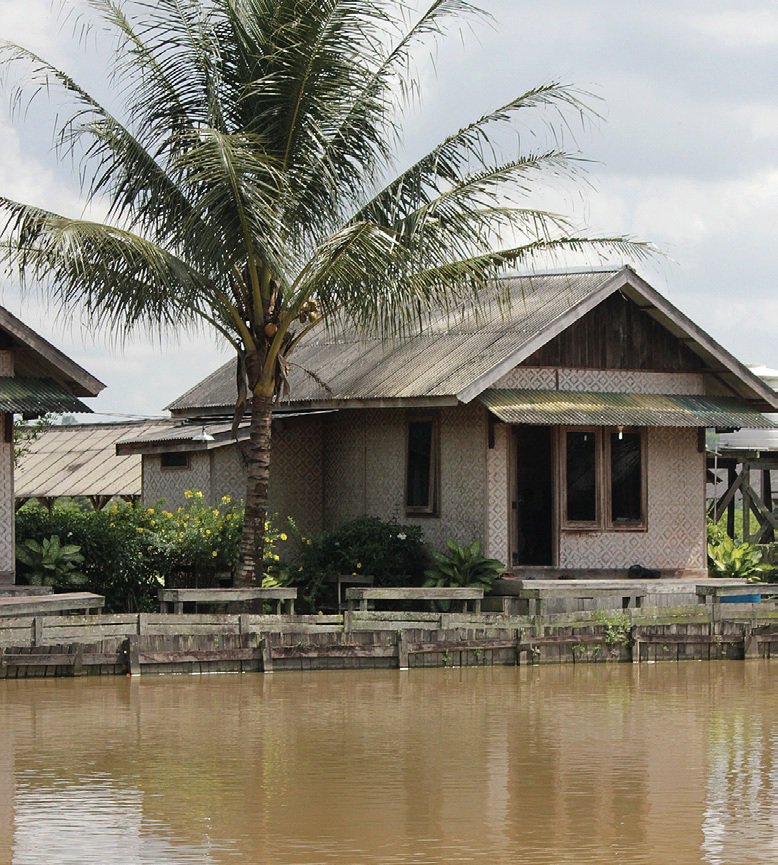 So, anyone can visit anytime they want for this place always open for you, even in religious holidays. But we must remember that we must make a reservation before we run out of a place to have a fun weekend at Widuri.

LAMIN ETAM AMBORS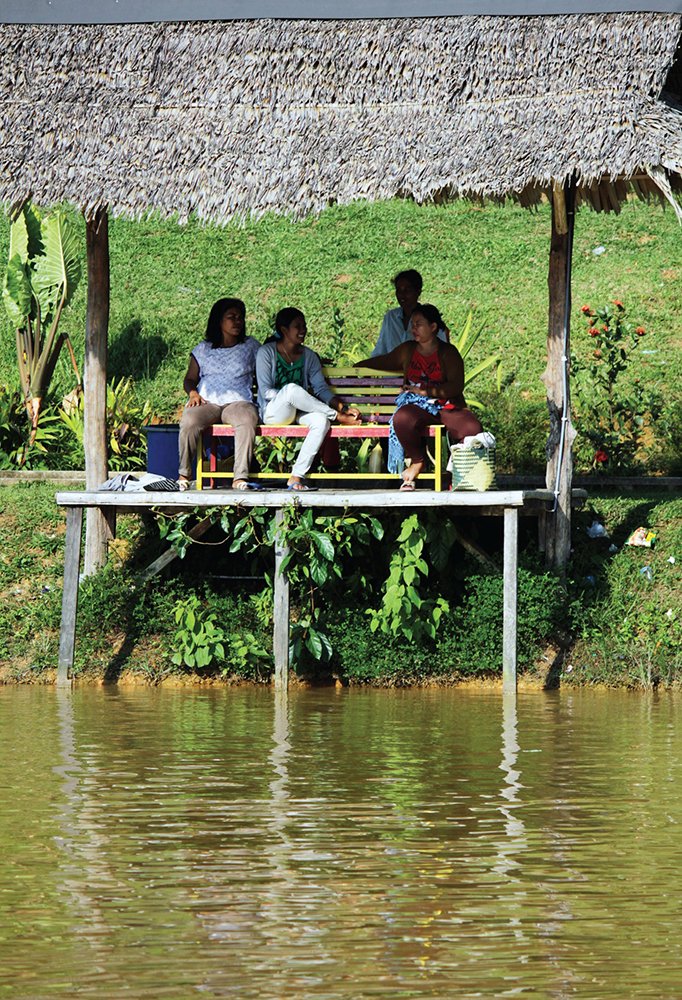 Wisata outbound merupakan salah satu alternatif liburan yang paling diminati saat ini. Tapi, bagaimana jika bisa menikmati outbound dan mengasah keahlian memancing dalam satu area sekaligus? Kedengarannya mengasyikkan ya?
Taman Wisata Lamin Etam Ambors, bisa menjadi tujuan Anda bersama keluarga untuk bersenang-senang dan menghabiskan waktu di akhir pekan usai menjalani rutinitas. Taman wahana outbound dan pemancingan ini terletak 28 Kilometer dari Balikpapan ke arah Samarinda.
Outbound is one of the alternatives to have fun these days. But how can we enjoy outbound as well as fishing at the same place? Being able to do so seems fun.
You can choose Taman Wisata Lamin Etam Ambors as place to spend your weekend. This outbound spot can be located 28km from Balikpapan.
You need to pay IDR 10.000 to enjoy this tourism park. The developer provides 4 fishing ponds containing fresh water fish in natural concept.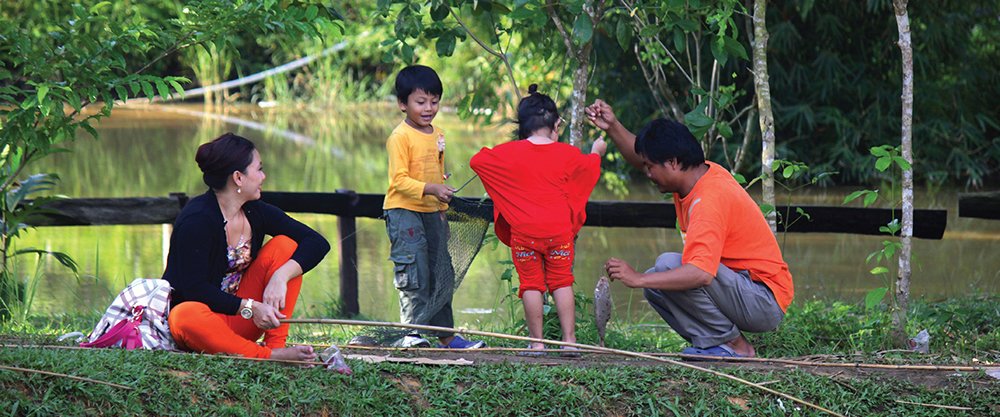 Anda cukup membayar Rp 10 ribu untuk menikmati taman wisata ini. Pengelola menyediakan 4 kolam pemancingan berisi ikan air tawar dengan konsep natural. Hanya ada joran dari bambu yang disiapkan bagi mancing mania.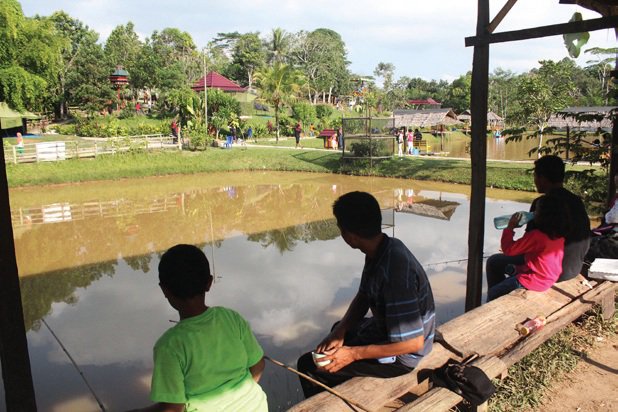 Kita bisa melempar kail sambil duduk santai di rerumputan, atau menggelar tikar di bawah pepohonan. Mereka tak melarang pengunjung membawa bekal dan menikmatinya sambil memancing. Tapi Anda yang tidak membawa bekal, tak perlu khawatir karena banyak warung yang menyediakan berbagai makanan dan minuman.
Jika ingin membawa pulang ikan hasil tangkapan, berikut ini harga yang harus ditebus; ikan nila, patin, emas, bawal, dihargai Rp 45 ribu per kilogram dan ikan lele Rp 35 ribu.
Beroperasi dari hari Sabtu-Kamis, Lamin Etam Ambors buka mulai pukul 09.00-16.30 Wita. Taman Wisata Lamin Etam Ambors merupakan pelarian yang tepat bagi Anda yang gemar berwisata alam. Fasilitas cukup lengkap dan suasana yang jauh dari keramaian kota, melengkapi kebutuhan rekreasi keluarga.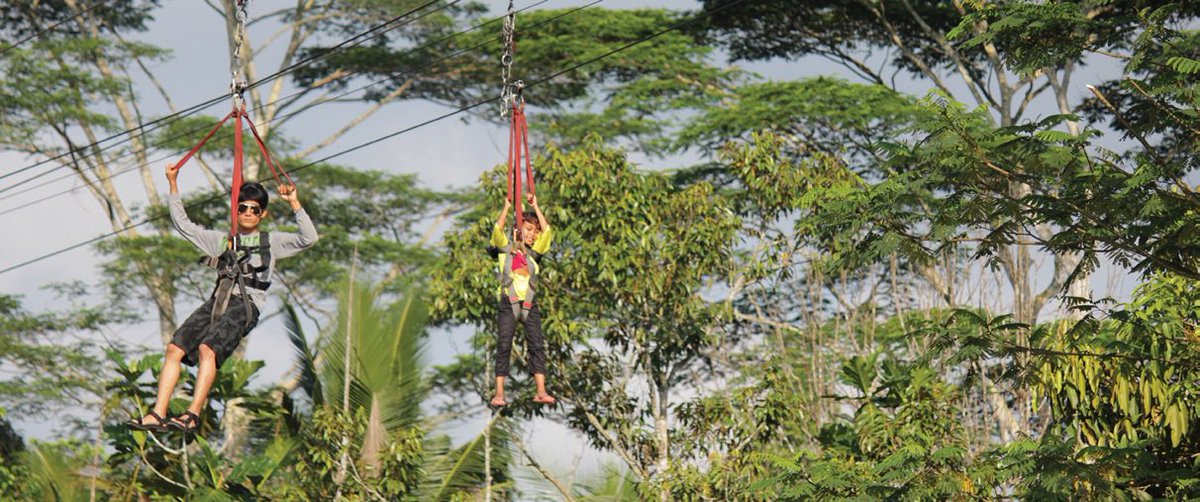 It is just that the fishers must bring their set of fishing rod. We can set our sail while sitting on grass or even laying down on the mattress enjoying the shade of the tree.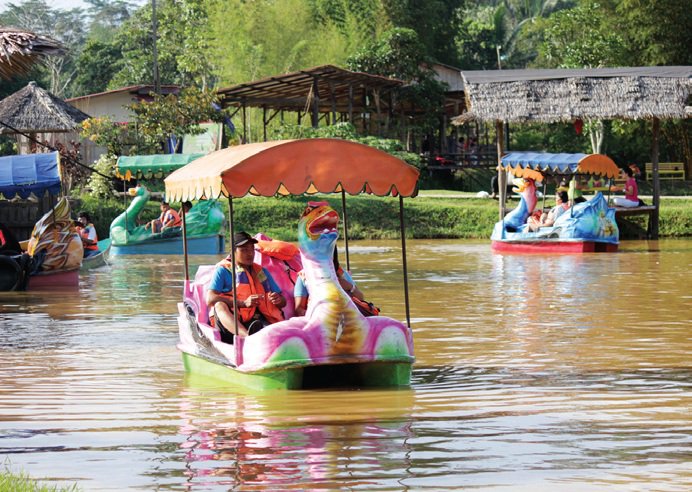 The developer permit visitors to bring their own meal, which adds to the great amusement of fishing.
But we don't have to worry if we don't bring meal, since there are lots of tenants providing mouthwatering meals and snacks to accompany our fishing time.
Should we wish to bring home our catch, these are the pricelist : IDR 45000 per kg for nila fish, patin fish, goldfish, and bawal fish, in the other hand IDR 35000 for catfish.
Lamin etam ambors opens on Saturday to Thursday, 9.00-16.30. This tourism park is a perfect escape for those who would like to enjoy nature to the fullest.
Though this place is away from town, it has great facilities to accommodate everything your family need for a vacation.
LINOV 88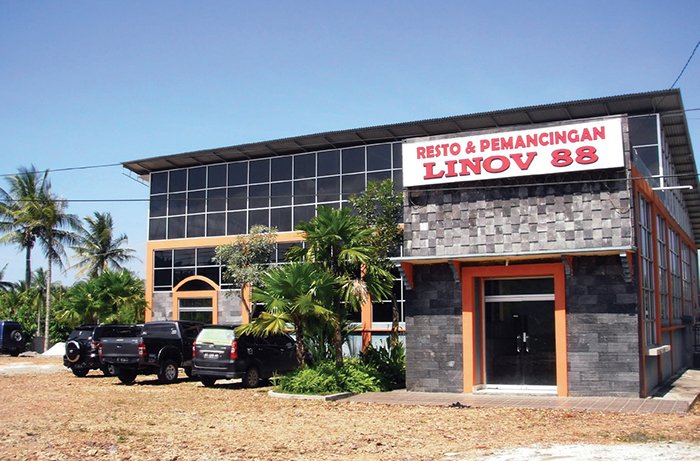 Jika Anda menuju Pantai Lamaru dari arah Balikpapan, dengan mudah menemukan lokasi pemancingan ini. Bangunan resto modern menyambut pengunjung di bagian depan. Dengan lahan seluas dua hektare, Linov 88 menyuguhkan perpaduan tradisional dan modern.
Berada pada pusat industri dan jasa di kawasan Balikpapan Timur, menjadikan Linov 88, tujuan pertama para pekerja melepas penat, maupun bersantap siang. Pada hari-hari kerja banyak pengunjung hanya menikmati sajian kuliner. Sementara pada akhir pekan, para pemilik kendaraan yang parkir di depan bangunan, biasanya menghabiskan waktu di pinggir kolam.
Ratusan penghobi mancing keluar masuk parkiran pada hari-hari libur. Mereka mengincar ikan emas, nila, bawal, patin, lele, gurami yang menghuni kolam. Pemancingan ini hanya melayani pengunjung dari jam 8 pagi sampai 10 malam.
Anda bisa menyewa joran roll Rp 25 ribu per hari atau joran bambu Rp 10 ribu per hari. Ini bisa menjadi alternatif Anda yang kebetulan singgah tanpa persiapan khusus memancing. Beragam jenis umpan juga disediakan pengelola untuk menjajal ikan-ikan di 4 kolam yang disediakan.
If we go from Balikpapan towards Lamaru Beach, we can easily spot this fishing spot. Its modern restaurant building welcomes us to a 2-hectare fishing area which will astound you with their modern-traditional touch.
Located in eastern Balikpapan, which is the center of industries and services, Linov 88 is the main destination for workers to loosen up from stress or either just having a short lunch. On weekdays, we can only see culinary presentations, while in weekends, there are abundance of vehicles parking in front of the building. Usually, they are the visitors who would like to spend the day by the pond.
There are hundreds of fishing hobbyists visiting Linov 88 on vacation days. Targeting all the available fish in the pond, they put their best efforts in it. Luckily, this place only open from 8 am to 10 pm. Otherwise, those hobbyists will stay overnight.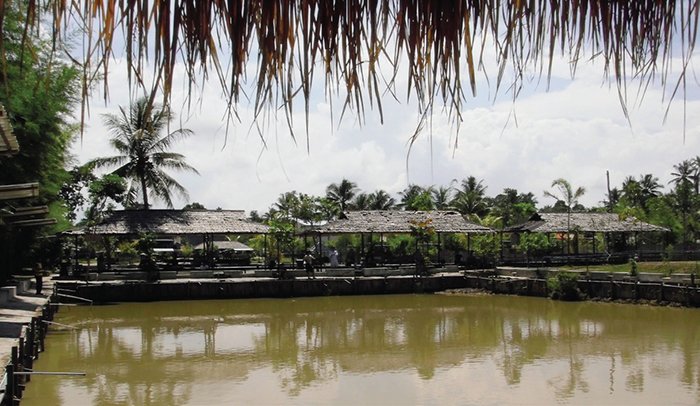 You can also rent roll rod for IDR 25000 per day or rod made of bamboo for IDR 10000 per day. This can be an alternative for those who just stop by without any kind of fishing equipment. There are also many types of bait provided to challenge ourselves against those fish in the four ponds in it.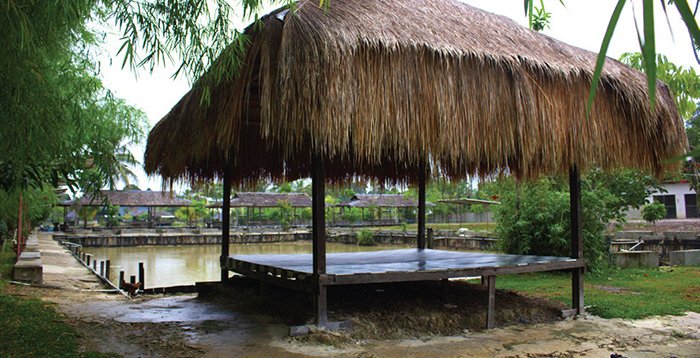 Gazebo ditempatkan dekat dengan kolam sehingga bisa langsung melempar kail di bawah rimbun atap jeraminya. Atau hanya untuk tidur-tiduran sambil menunggu strike. Ada ikan seberat 3 kilogram yang menantang Anda. Tak perlu sungkan jika ingin menikmati ikan hasil tangkapan sendiri, karena Anda bisa meminta petugas untuk mengolah sesuai selera; dibakar atau digoreng cukup menambah Rp 15 ribu saja.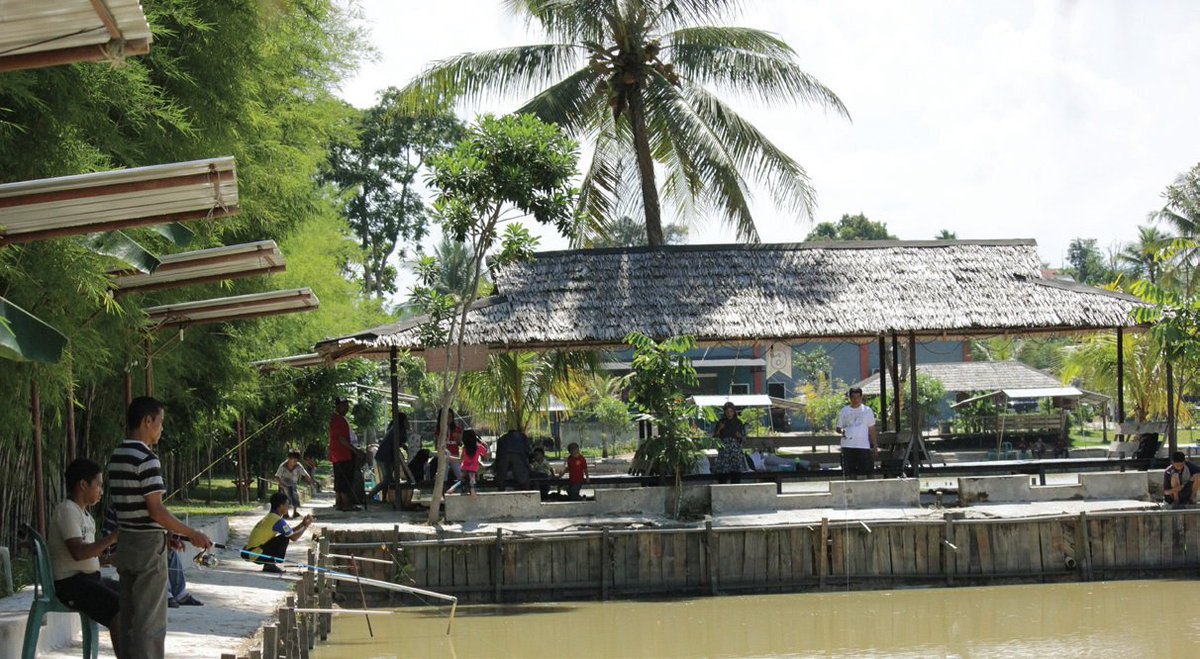 There are also gazebos by the pond so that we can either sit under the shades or just lie down while waiting for our 3-kg-fish-strike. Afterwards, don't hesitate to taste our catch, because it only cost us IDR 15000 to have it either grilled, steamed, or even fried. Best to our taste.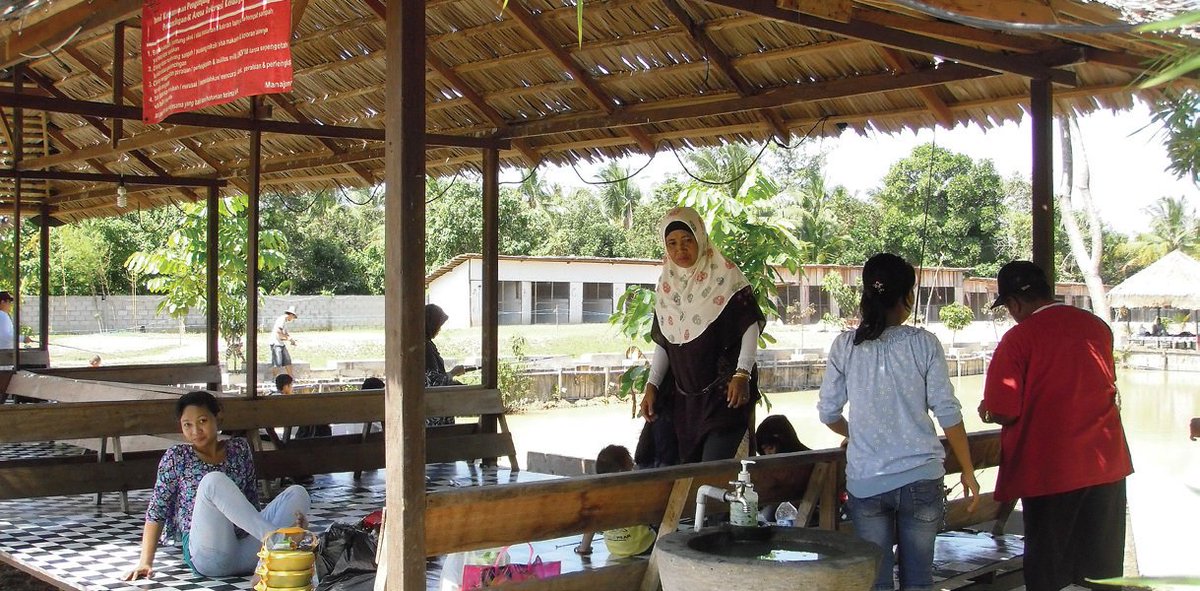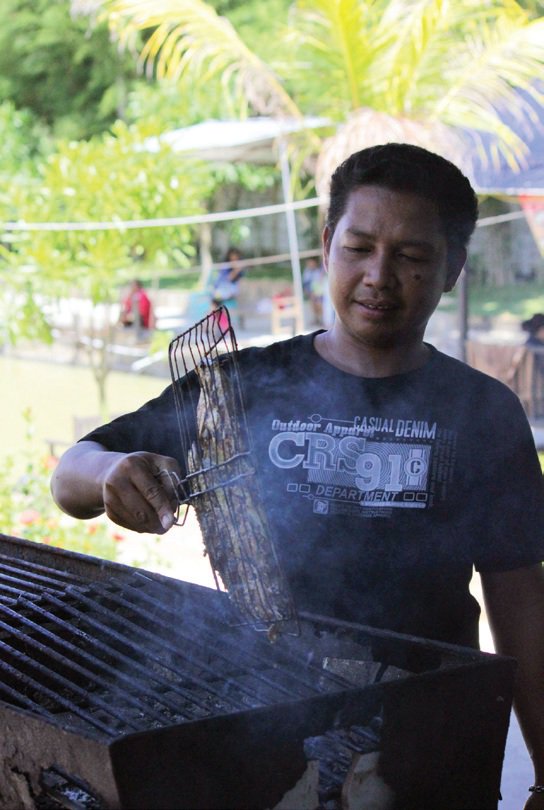 SURGA PATIN

Sesuai namanya, lokasi pemancingan ini adalah tempat patin terbaik berkumpul. Berada di kilometer 18 jalan poros Balikpapan-Samarinda, lokasi pemancingan ini diburu, tidak saja oleh mereka yang gemar memancing patin, melainkan juga para musafir.
Di depannya, tepat di pinggir jalan adalah rumah makan dengan pemilik yang sama. Puluhan kolam di areal 3 hektare baru Anda jumpai setelah melewati jalan cor semen sejauh 300 meter dari jalan poros.
Just as it is called, Surga Patin is a heaven for those who loves patin, this is where the best quality of patin gathered. Located in the 18th kilometer of the main road connecting Balikpapan and Samarinda, this spot is hunted not only by those who loves fishing patin but also those who are travelling.
Right in front of it, we can see a restaurant owned by the same owner of Surga Patin. Tens of ponds in this 3-hectare area. We can see it after taking a 300-meter trip from the main road.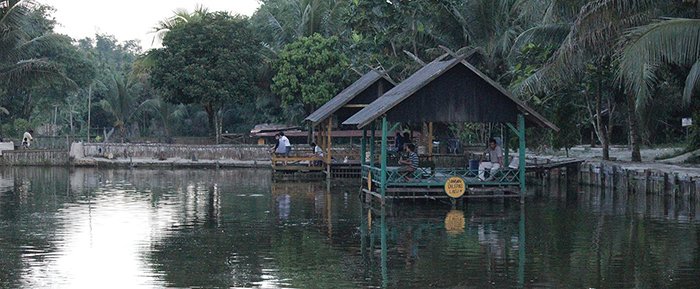 Kiri kanan jalan dipenuhi pohon-pohon menghijaukan mata memandang. Bagi penggemar ikan patin, patut mencoba pemancingan ini. Anda berkesempatan membawa pulang atau makan di tempat sebanyak mungkin.
Ada 10 ribu ekor patin setiap 4 bulan didatangkan untuk dimasukkan dalam kolam. Bahkan kini ada yang sampai berbobot puluhan kilogram per ekornya, karena tak kunjung berhasil dipancing.
Selain patin, yang menjadi primadona adalah lele sangkuriang, bawal, nila, gurami dan ikan emas. Lahan luas, fasilitas memadai, cocok untuk dijadikan tempat melaksanakan gathering, acara komunitas atau perusahaan Anda.
Kecuali Senin, pemancingan ini siap melayani tamu dari pukul 09.00 sampai 18.30 Wita. Banyaknya pengunjung yang penasaran dengan patin jumbo membuat pengelola menggelontorkan 3 ton ikan setiap bulan.
This fishing spot is surrounded by the trees that soothes our view. To the fans of Patin fish, you should try this fishing spot. you can choose to take it home or dine in as much as you please.
SURGA PATIN is supplied by not less than 10.000 fish every four months, directly put into the ponds. Some said that there are a few patin that weighs tens of kilograms since no fisher were able to catch it.
Beside patin, the best seller fish are sangkuriang catfish, bawal, nila, gurami and goldfish. broad landscape, pleasant facilities, this place will make an extravagant place to hold either community or company's gatherings.
Unless Monday, it is ready to serve us from 9.00 am to 18.30 pm (GMT +8). The abundance of visitors in search for patin resulting in 3 tones of fish consumption each month. Be sure to give it a taste.[eny]
SURGA PATIN
Jl Soekarno Hatta Km 18 Balikpapan
T 081350486059
Source : Majalah DISCOVER BALIKPAPAN Edisi ke 19 Juli 2013